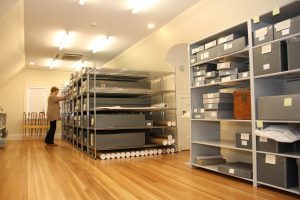 Click here to explore an assortment of items in our Collection.
Blithewold's recent Master Plan recognized the significance of the Collection at Blithewold. The resulting project to physically upgrade the third floor to state-of-the art archival standards was completed in 2013. That same year Blithewold received an Institute of Museums and Library Services grant for the purchase of a collections database, cameras and scanners that would enable us to digitize and catalog this important collection.
For almost two years an outstanding group of dedicated volunteers have taken on the painstaking job of photographing, researching, labeling, documenting, and entering information into our new database for every object in the Collection. We expect to be cataloging for a few more years, please check back often as new items are added.
The cataloging project allows us to:
Find items more efficiently
Prioritize preservation and conservation needs
Enhance interpretation of the Blithewold story
Support scholarly research
And allows us to share the treasures of Blithewold with you.
The archival and artifact collections offer many opportunities for serious study. These include a collection of more than 500 letters from the Civil War, letters from a boys' boarding school in the 1850s, and from a girls' boarding school in the 1890s.  Other impressive collections consist of more than 100 high quality gowns from 1882 to 1935 with accessories; travel journals from Europe, Alaska, Canada, and the west coast of the USA; parts of 35 sets of fine European china and oriental ceramics; notes and essays from 40 years of service to the Red Cross, 1914 to 1954; and many sets of rare books.
Researchers and scholars may apply for permission to access this primary source material by calling the curator at (401) 253-2702, ext. 22.