Blithewold wedding ceremonies are held in the exquisite North Garden adjacent to the Mansion. Following the ceremony, cocktails are enjoyed within the gracious, turn-of-the-century Mansion, on the terraces, and two covered porches overlooking the Great Lawn with its sweeping sunset views of Narragansett Bay. During the cocktail party and reception, your guests may stroll through the gardens and enjoy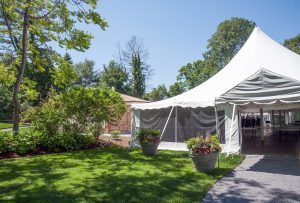 the property, just as guests at Blithewold have done for the past hundred years.
For dinner and dancing, your guests will be escorted to our white 40' x 100' Century Wedding Tent and newly constructed wedding pavilion. The tent is situated next to our Linden Grove and overlooks the expansive Great Lawn.
The newly constructed wedding pavilion provides easy-access restrooms and a lovely bridal room. To ensure the greatest enjoyment and personalization for your wedding, we only allow one wedding per day. 
A wedding ceremony only package is also available year-round.