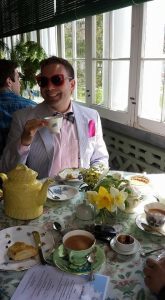 Afternoon Tea
Afternoon Tea has always been a great way to begin or end a special day at Blithewold. Sit back and relax while delighting in a cup of tea, freshly baked scones with sweet cream, and a 3-tiered tray filled with sweets and savory treats.
Simply luxurious!
Sample menu:
Orange-cranberry cream scones, served with clotted cream
Cheddar & Chives savory scones
Cucumber & whipped cream cheese sandwich
Roasted chicken salad served in phyllo cup
Smoked turkey sandwich with spinach and lingonberry creme
Savory quiche
Ambrosia Tart with coconut pudding
Carrot cupcake from Vienna Bakery in Barrington, RI
Honey Chocolate Praline with Blithewold Honey, from Hauser Chocolates of Westerly, RI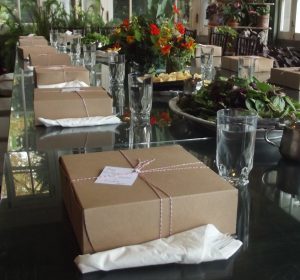 Individual Lunches
Individual lunches include a small container of pasta salad, freshly baked cookie, potato chips and iced tea or filtered water. Select 4 of the following sandwiches:
Smoked turkey with spinach and lingonberry creme
Roast beef with lettuce, tomato and horseradish sauce
Chicken pesto
Tuna salad
Bacon guacamole grilled cheese
Chicken bacon avocado
Veggie wrap, fresh vegetables and roasted red peppers
Buffet Lunches
Contact Allan Millora at [email protected] to customize a menu for your group.
Continental Breakfast
Imagine sitting on Blithewold's porch overlooking Narragansett Bay, while sipping a hot cup of coffee and enjoying a fresh-baked muffin, seasonal fruit salad and locally produced yogurt. Contact Allan Millora to make this dream a reality for your group.