Friday, December 29, 2017
|
|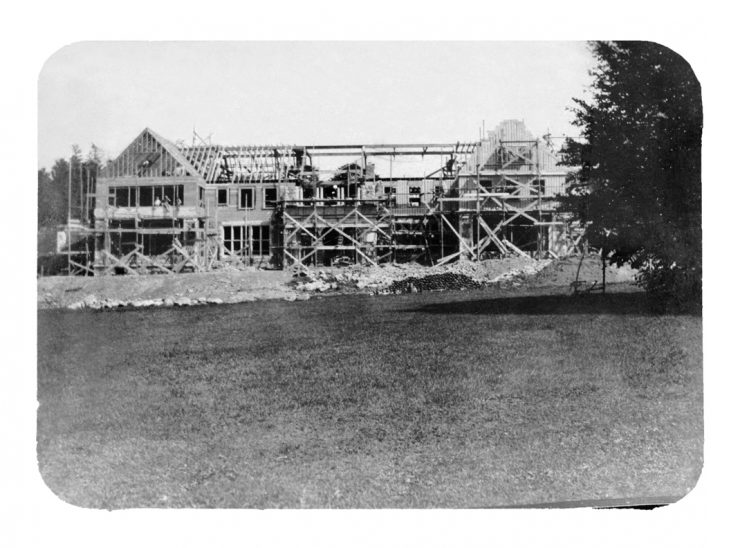 Walter Kilham was the architect of Blithewold. Bessie met him in Boston in 1903 when she hired him to make extensive renovations on her newly purchased Commonwealth Avenue townhouse. She was so pleased with his work there that, when plans were needed for a new Blithewold in 1906, she had no hesitation in giving Walter Kilham the commission. The two families became friends, and the Kilham family visited the new and glorious Blithewold many times.  Walter's son wrote his recollections of a visit to Bristol sometime before World War I:
"We must have gone to Bristol by train. Few people had cars in those days, but the McKees did and it was sent to meet us. The car, a Crane Simplex as long as a locomotive it seemed to me, brought us to the door.
As one of six children we were comfortably taken care of in what I always thought of as a large house, until we entered the front door of Blithewold. There was a magnificent open space running clear through the house to the other side. Glazed with doors and windows at the far end, there it opened onto a great porch which in turn faced on a lawn, smooth as a croquet field, that gently sloped down for a mile (or so it seemed to me). But this lawn was not the wonder of it all, as I soon learned that to maintain the lawn they had their own private steam-roller!
The next day I could hardly wait to explore this new domain, particularly when I was told that if I would follow down the roadway on the left side of the lawn I would come to the boathouse with not only boats on hand but a real "captain" to take care of them. It was in his company from then on that I spent most of my time.
Meals were my juvenile problem. To save me the ordeal of the sumptuous dinner with the grown-ups served in style in the huge dining room, I had supper in my own room. It happened that as a boy not only did I not like, much less eat, spinach or prunes, but I couldn't abide fish. So now came a real disaster! Mr. McKee had been on a salmon fishing trip to Canada. The very day we arrived there also came to the back door a large wooden box in which, packed in ice, was a huge Atlantic salmon. From then on, for breakfast, lunch, and dinner they served salmon.
Alone in my room I was served salmon. When I wouldn't eat it the servant brought me shredded wheat!
I can recall only one other story. It must have happened some years later, or at least its sequel did. My mother, a painter of note, became interested in helping a famous French artist, Henri Caro-Delvaille, in getting a start in this country. It was not surprising therefore that, before long, Mrs. McKee was sitting for her portrait. In due course it appeared over the mantel of the living room at Blithewold. Mr. McKee hated it, but kept his peace.
Just how it was I don't know, nor does anyone else for that matter including the police, but it came out in the newspapers that the house had been broken into while the owners were away and the portrait of Mrs. McKee by the famous artist, stolen. From the occasional raised eyebrows here and there, I gathered that connivance in high places was suspected, despite the offer of a reward.
Such is the Blithewold I remember."