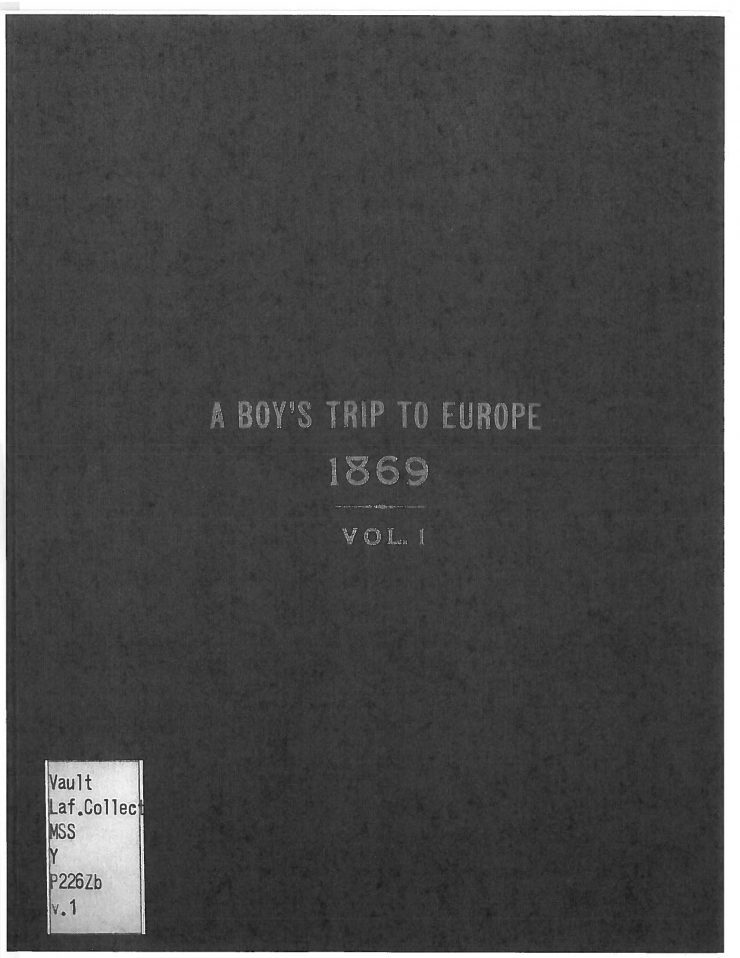 In 1869, 16-year-old Israel Pardee left his home in Hazleton, Pennsylvania, for a one-year educational journey through Europe, accompanied by his younger sister Anne. Israel (known in the family as Izzie) was Bessie McKee's older brother and became Marjorie Van Wickle's favorite Uncle. Izzie and Anne had joined the family of their father's friend, Dr. William C. Cattell, President of Lafayette University, for the trip.  Dr. Cattell was studying teaching methods in the polytechnic schools and colleges throughout Europe, and his wife Elizabeth went along to care for their two sons, Harry and Jimmy, as well as Israel and Anne. Mrs. Cattell supervised lessons for all the children, and helped organize visits to all the important sites of Europe.
During his trip, Izzy wrote in his diary every day, and called it "A Boy's Trip to Europe, 1869." He collected plant material and pasted his specimens into a leather-bound album. He particularly enjoyed the visit to Oxford, "We went to nearly all the colleges," and then on to Warwick Castle where he saw "beautiful trees and ferns, ivy hanging down the sides and the rocks all overgrown with moss, so that it is most charming."
In his spare time, Izzie read, collected stamps, and arranged his plant specimens into beautiful, artistic arrangements: "August 7th. I read a little of 'Kenilworth' novel by Scott and marked out our route on my map. I put my flowers and leaves into my scrap book, all my stamps in my book, etc."
When Marjorie Van Wickle took her own "Grand Tour" in 1903, she followed the almost identical itinerary as her Uncle had 34 years earlier, and many of her observations on important places echo his.
The album, (stamped on the front cover in gold letters "PARDEE"), and a copy of Izzie's 300-page diary are on temporary display at Blithewold, in Marjorie's bedroom. The album is on loan from the Hazleton Historical Society. The copy of Israel's diary is displayed courtesy of the Skillman Library at Lafayette University.