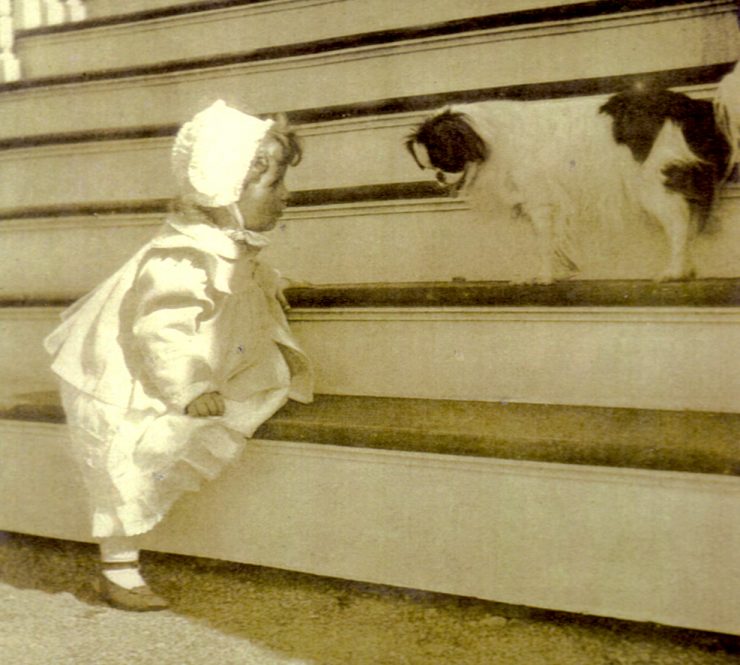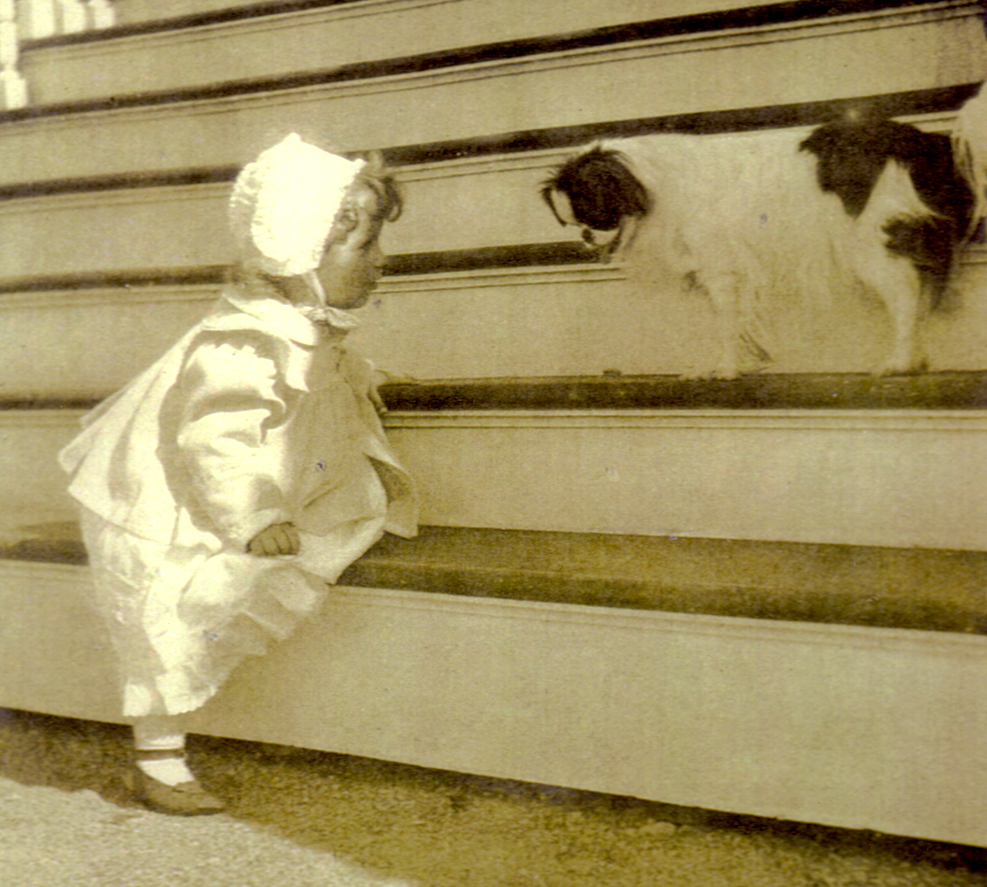 This amusing article was written by our dear friend and colleague, Mary Philbrick, eleven years ago.  It is as charming today as it was then!
Blithewold's Great Lawn is a perfect place for dogs to chase balls, romp with each other, or just run with the sheer joy of having such a grand place on which to frolic.  Was the Van Wickle/McKee family composed of serious dog lovers?
Ear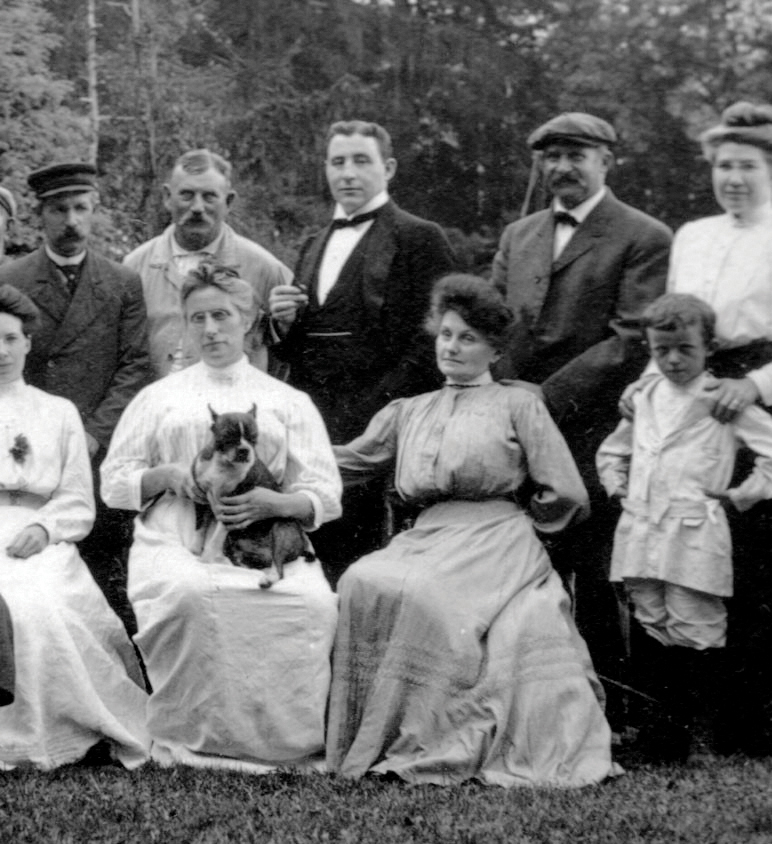 ly photographs show dogs lying on the lawn at the original Blithewold, and in a group photograph taken of the staff in 1910 a small Bull Terrier sits proudly on a servant's lap.  A tin-type photograph of a very young Marjorie Van Wickle shows her with a King Charles spaniel named "Sara Ito".  We believe this dog belonged to her father, Augustus Van Wickle.  Sara Ito must have led a long, happy life, for she appears again, some nine years later, in photographs with baby Augustine.  A recently discovered oil portrait of this little dog suggests that she was much treasured, and the portrait now hangs in Augustine's room.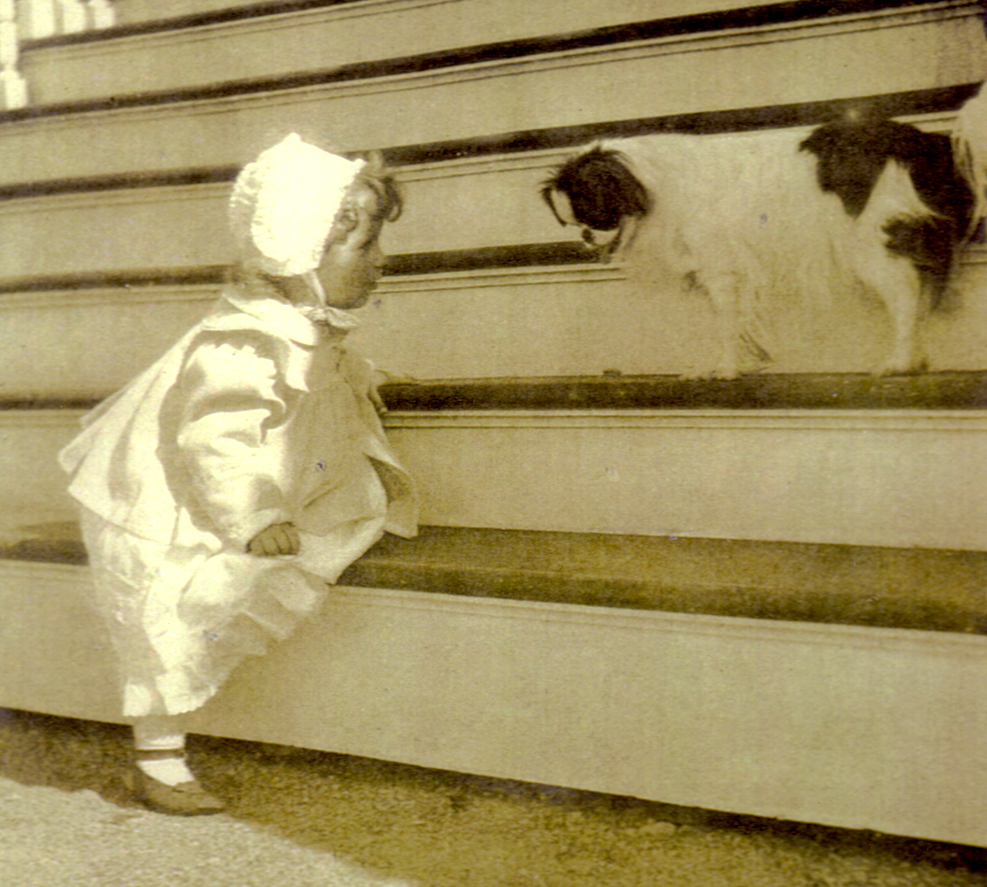 Of all the dog-lovers in the Van Wickle/McKee family, Marjorie Van Wickle Lyon stands out as the most devoted.  For many years Marjorie bred and raised Irish Terriers.  "Derry," "Meg," "Tiny Tim," "Sheila," and others, became Marjorie's trusted companions, roaming Blithewold freely, and posing for innumerable photographs.  Their births and deaths were marked by small memorial plaques placed on trees in the Bosquet, their remains buried nearby.  Copies of these memorial plaques can be seen today on Bosquet trees.  The original plaques are now kept in the Collections area of the Mansion.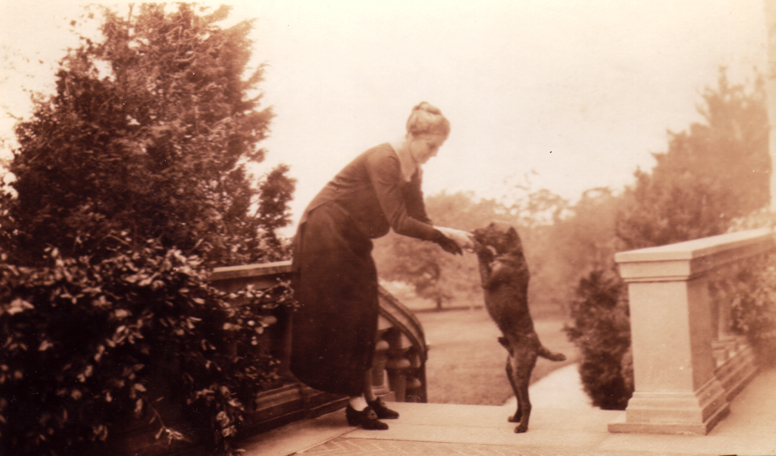 In her book "Blithewold" Jill DeWolf Pardee, Marjorie Lyon's cousin, described Marjorie's beloved "Sheila" running from the kitchen to the living room with a note tucked in her collar announcing that dinner was ready to be served. This practice was observed by the dog each evening.
Marjorie Shaw Jeffries, Marjorie Lyon's niece, remembers one day playing alone in the living room when she was discovered by a very proprietary and jealous terrier who promptly nipped her.  Marjorie Lyon's pet was defending her territory!
For obvious reasons, today's Blithewold cannot allow dogs to roam its historic grounds, but any dog-lover may walk the Great Lawn, the Bosquet, the Gardens, and the shoreline, and imagine how their pet would love it all – a veritable "Dog's Paradise".