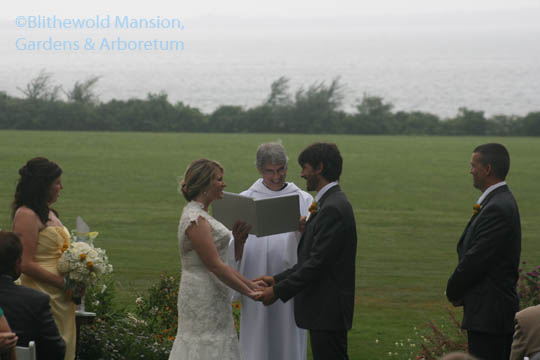 Blithewold has got to be one of the prettiest places for a wedding: there's nothing like being surrounded by on all sides by a glorious garden, and framed by a sweeping view of the Bay to make one of the greatest events in a couple's life even more special and spectacular. For every couple who chooses this place for their wedding, it becomes an important part of their story but I would have to guess that not since Marjorie Van Wickle was wed here to George Lyon has Blithewold been such a huge part of a couple's life as it is for our own Julie Murphy and Dan Christina (Blithewold's education coordinator and asst. grounds manager.) Dan and Julie met and fell in love here!
Blithewold is written indelibly on nearly every page of their story and to those of us who have been a witness all along (or almost all along – they kept it a secret for a whole year!) to their love for each other, it seemed that there could be no more perfect place on earth for them to exchange vows than Blithewold's North Garden. And even the rain, which fell on their day like a blessing after weeks of baking sun, was exactly right. They say rain makes the knot tighter but for a pair of horticulturists it also greens up the grass and makes their garden grow.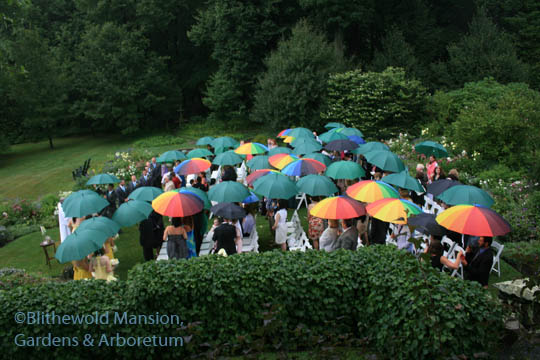 It's a testament to Julie's wish that those of us who work at Blithewold not have to work that I didn't even bring my camera. But I wished I had! Thank goodness Gail had hers and took such excellent shots. Gail also had the honor of assisting garden volunteer Terry Converse who made all of the gorgeous flower arrangements, which were dotted with flowers and foliage grown with Julie's colors in mind and picked from the property. The wedding really couldn't have been lovelier – or more Blithewold.
Julie and Dan, may your life together continue to be full of love, laughter, and the riotous abundance of an August garden after a rainstorm! Sláinte!
(All pictures in this post were taken by Gail Read. Click on for larger view.)