Friday, April 19, 2013
|
|
Daffodils
,
Daffodils
,
dividing perennials
,
editing perennials
,
How, When, What-we-do
,
Idea Garden
,
Moongate bed
,
musical perennials
,
planting
,
propagation
,
weather
,
weeds
,
what's blooming
,
what's in bloom
It's quite possible that the daffodils have never been as beautiful as they've been this week. The early daffs are lingering while the late ones open (there are still more to come) and the entire property seems lit from below. And the timing, coinciding with April vacation week, couldn't have been better. So many people of all ages — hundreds each day — have been able to take the time to enjoy the property, bringing picnics, playing games, lingering on benches, and taking advantage of photo opportunities under the moongate and on the new Norway maple throne next to the bamboo grove. So fun — and totally gratifying for us to see. Although kids will go back to school on Monday, the show here goes on. Tulips should start opening in earnest this weekend and should come into peak themselves just as the daffodils begin to step aside.
The beautiful weather this week, gently warm and sunny, also made our hard work in the gardens hardly feel like work at all. We continued to edit, starting again in the Idea Garden. Some plants like mint family "thugs" (I hesitate to call them that because I love them, but they do spread outwards in a way that earns them a certain reputation) need to be re-corralled every year if we are to enjoy them to their fullest. And when we keep up with them annually, the edits are easy to make. (I know whereof I speak. In my garden procrastination has gotten the best of me — and them.)
Beebalm (in this case, Monarda didyma 'Jacob Cline') forms a dense mat, only reaching a few fingers outwards from that, and every year we simply smallerize the mat by digging out the outer edges. Mint (in this case spearmint, Mentha spicata 'Kentucky Colonel') sends rhizomes all-whicha-ways that need to be pulled out from amongst neighbors. (It's easily done because the roots are close to the surface — and it smells delicious.) Mint also makes a dense central mat and I find it easiest to dig that all out and replace only a little of the best bits. Because most gardeners I know keep it in containers instead, we decided to showcase that method too, this year. We are still playing musical perennials, moving shrubs from one bed to another, giant lilies (Lilium 'Gerrit Zalm') that were out of scale in the trough garden went to the Rose Garden where they'll wow with the roses; and we redistributed more oxeye daisies (Leucanthemum vulgare) from the cutting garden to the North Garden. And we have been fine tuning too, weeding out shocking patches of chickweed, onion grass, deadnettle, and rogue clumps of lawn. (More on our Rose Garden corner weed eradication program later — big decisions were made by committee just yesterday.)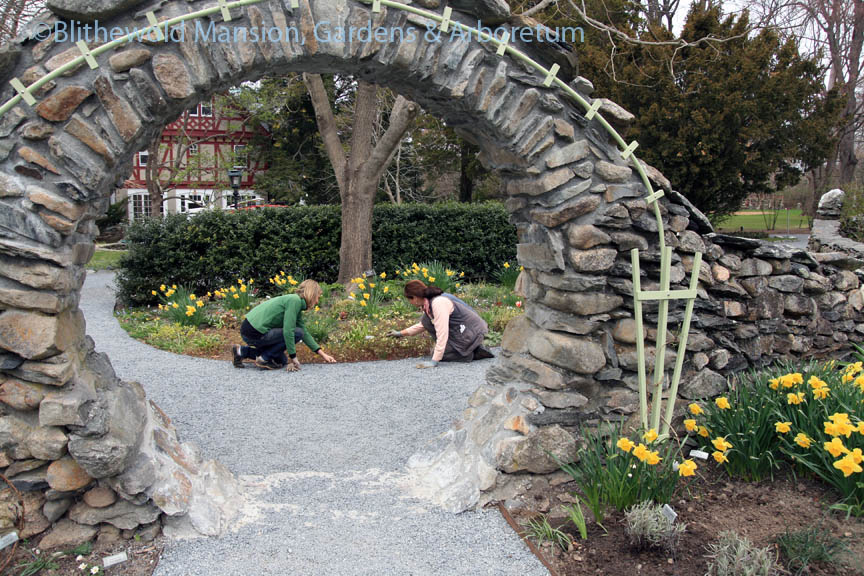 And I have been very remiss in not mentioning our new intern, Betsy who has been working with us now a couple of days a week for the last 3 at least. My only excuse is that she fit right in and it feels like she has been at Blithewold for years already. Betsy also works at Schartner Farms in Exeter, RI and interned at Arnold Arboretum, so I think she'll have a thing or two to teach us (me) too.
Did you spend April vacation in the garden too? Working or playing — or both?