Friday, March 2, 2012
|
|
Daffodil Days
,
Daffodils
,
Daffodils
,
greenhouse
,
How, When, What-we-do
,
mice
,
pests
,
seed sowing
,
seeds
,
seeds
,
vegetable garden
,
volunteers
,
volunteers
,
weather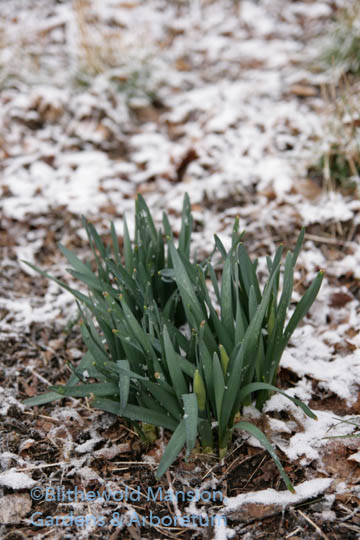 Nature has her own ways of doing things and her own timing. There's no predicting it. — It hadn't occurred to us last August when we ordered bulbs that squirrels would be acorn deprived and tulip-hungry this year. We had no idea after so many years mouse-free in the greenhouse that they'd be back. And we had no way of knowing when setting the date for Daffodil Days last year that they might bloom extra-early this year. Nature keeps us on our toes and all we can do is go with the flow and enjoy the ride.
There's no fighting the likelihood of an early spring (despite another dusting of snow) so we're going with it and rescheduling our celebrations to (hopefully) more closely match Nature's timing. We will hustle to be open for the season and Daffodil Days starting April 1.
As for this being the year of the rodent here at Blithewold, all we can do is roll with the punches and get smarter. We've ordered extra spring bloomers to fill in any tulip-shaped gaps. (The squirrels didn't eat them all so we'll be sure to spray or dust the survivors with deer repellent.) And we're doing our darnedest to keep the mice out of the seeds by covering the seedling trays with weighted upside-down trays. Fingers crossed. And I'm sorry to say it but because we can't grow the gardens we're known for without these plants, we have also brought out the big guns: poison bait. No dogs allowed in the greenhouse until further notice. (And after that, by invitation only, as per usual.)
When change is good it's easy to adapt to it. Assistant grounds manager, Dan Christina has joined Dick in managing the vegetable garden. He has drawn a beautiful plan, dug trenches for the asparagus that Dick has been asking for forever, started working on a brilliant array of staking methods and support structures, and will help keep us all to a schedule of extra-productive succession planting and harvests. We're pretty excited.
Any changes, welcome or not, in your garden? Will you have to hustle to be ready for an early spring too?