Friday, August 31, 2018
|
|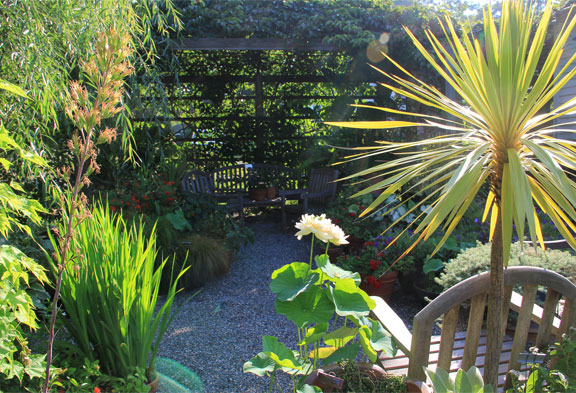 Heat Lovers and Container Plants
It is official, August 2018 was the hottest August on record. As I walk along viewing the gardens I'm impressed that there are plants that appreciate the high heat and humidity. They show this by blooming profusely.  Of course that comes with some tender loving care from our garden staff and garden volunteers.
In the Idea Garden, native perennials, cardinal flower (Lobelia cardinalis), northern blazing star (Liatris novae-angliae), and Joe Pye weed (Eutrochium purpureum), have been flowering with minimal watering.  They have plenty of nectar to share with bees, butterflies, and hummingbirds.  I marvel at their resilience, which has stood the test of time in New England weather.
The tropical plants in containers have been producing flowers continuously relishing the heat and sun. They are needy for fertilizer and water, but they are also grateful putting on a show stopper performance of blooms.  Passion Flowers (Passiflora citrina 'Aphrodite's Purple Nightie'), frangipani (Plumeria alba), scarlet firecracker bush (Bouvardia ternifolia), all have abundant blooms that are favorites of hummingbirds.
With the high temperatures, I have been walking along the garden path straight for the shade.    Here are plants that appreciate August's extreme humidity – our potted begonia and fern collections.  No complaining from these shade loving flora as their growth has doubled in this weather.  All the different colors, textures, and shapes create an interesting tapestry in the cool shade.
Visits to the gardens now will show that with care, the gardens have grown lush with blooms and are not fazed by August's heat and humidity.
Featured Image:  The morning light has changed in the container area in the Idea Garden.