Friday, November 2, 2018
|
|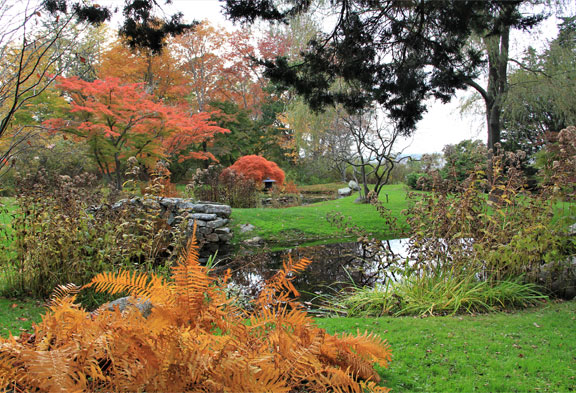 Nature's Beauties Great and Small
A walk along the garden path this time of year will have your gaze upwards instead of at garden eye level.  The peaking fall foliage of specimen trees on a preserved garden estate, such as Blithewold, is a special treat.  Pathways provide stunning perspectives, winding around and underneath many venerable trees that are close to a century old.  While walking along there are still many birds, bees and small creatures around.  With warm temperatures during the day, even after a hard frost, the little meadow creatures (crickets?) are faintly chirping under a matt of fallen grass reminding me of the amazing resilience of life in the landscape.
The Water Garden is a striking sight with Japanese maples (Acer palmatum), a small pond with a stone bridge and yellowing cinnamon ferns (Osmundastrum cinnamomeum).  It has a graceful yet informal appearance.  Here is where the birds are busy in and out of the hedgerows filled with native plants providing a variety of seeds and berries.  Looking beyond is the ever changing look of the seascape with the bay, clouds and shorebirds.  This view is remarkably different every day and always a joy to see.
At the greenhouse I was surprised and delighted to see a plant we've had for six years finally bloom.   The shaving brush flower (Haemanthus albiflos) is a South African bulbous plant with foliage like an elephant's tongue which I'm fond of in itself.  This past summer with the heat and humidity, the plant was given what gardeners politely call "benign neglect" or truth be told, we forgot about it under the grape arbor hidden by a larger plant.  Perhaps it was just the dormant rest it needed or it felt its demise too close, but once in the greenhouse with a little attention it rewarded us all with its unusual flowers.  There is beauty all around in the great and small.
Featured Image: Water Garden with yellowing cinnamon fern (Osmundastrum cinnamomeum) and Japanese maples (Acer palmatum)