Friday, October 12, 2018
|
|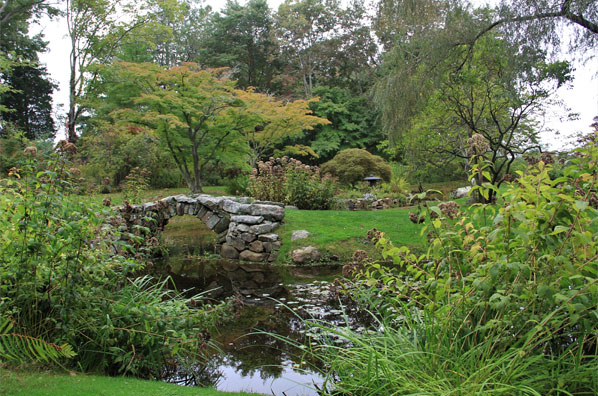 Autumn Sights, Scents and Sounds
The walk around the gardens this week has my senses going in all directions. They're all still blooming with a colorful assortment of flowers, and their mix of colors, seed heads and pods is a classic October garden scene. The first fallen tree leaves have gently scattered about the garden paths, adding a taste of what's to come. I'm drawn to the Cutting Garden; it's an enchanting visual sight with Dahlia 'Peach Delight', and Dahlia 'Bishop of Llandaff' leaning on the bamboo arches draped with cardinal climber (Ipomoea multifida) still blooming. Our mix of cosmos are overachieving in height, reaching above the asters. The Cutting Garden is a champion for color.
As I walk down the path through the meadow towards the Water Garden, I begin to get a pleasant familiar fragrance. It's a combination of damp meadow grass, fermenting fallen crabapples nearby and decaying leaves. Yes, I love that earthy scent which shouts out autumn.
Once in the Water Garden, I see that even though there's no fall foliage color yet, the look is beginning to change. I walk past the Rock Garden where our volunteers did a thorough and much-needed weeding this week. Now I can smell and feel the sea breeze. The groundsel bush (Baccharis halimifolia) is blooming by the shoreline. It is dioecious, having female and male flowers on separate plants, and now the female bush is covered with white silky flowers. This native shrub is right at home at the high-tide mark.
As always I'm distracted by the sounds of nature all around me. Many birds are still singing, completing a soundscape that is always soothing. With a walk this week you can't help but feel the greatness of autumn all around you.
Click here to see Gail's video of birds singing in the Rock Garden.
Featured Image: The Water Garden