Friday, September 7, 2018
|
|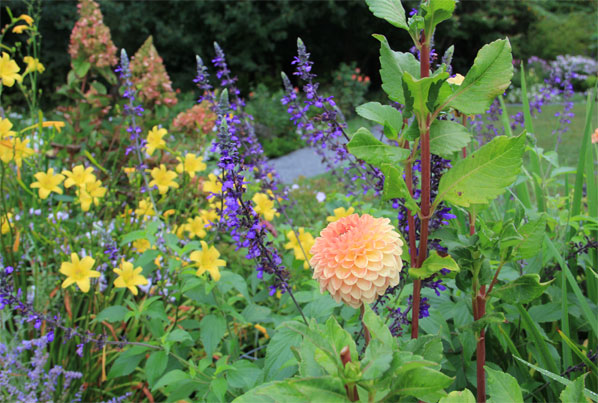 In Good Company
It's rewarding to create a garden with plants that keep good company with each other.   Just like a good friendship, combinations of plants should work well together:  harmonizing in colors, sharing space respectfully, and enjoying the same conditions with light and soil.  Here are some to take a look at in the gardens at Blithewold.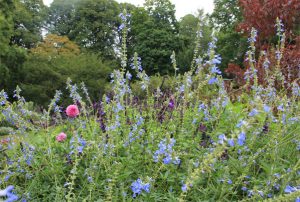 In the Rose Garden, tall sky blue bog sage (Salvia uliginosa), robust purple friendship sage (Salvia 'Amistad'), and anise-scented sage (Salvia 'Rhythm and Blues') have all been blooming steadily for over two months.  This planting combination has seen hummingbirds, bumble bees, and honey bees daily. Nearby palm grass (Setaria palmifolia) has fresh green sword like foliage that gracefully waves in the breeze, adding movement to the mix.   This ensemble will continue to bloom until the frost.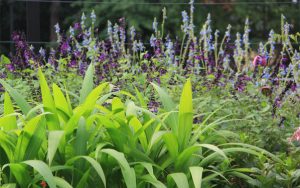 In the North Garden another long-lasting combination:  Salvia 'Indigo Spires' and yellow daylily (Hemerocallis 'Wee Willie Winkie') have been blooming through the August heat and into September.  When the daylily is done blooming apricot Dahlia 'Blyton Softer Gleam' will continue to bloom with the deep blue salvia.  Salvia 'Indigo Spires' and all the dahlias will also bloom until a frost.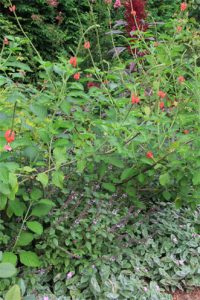 Perhaps my favorite mix can be found in the Display Garden. What was started as an experiment with plants that were left over from the greenhouse, turned into something beautiful. This unlikely threesome: tall architectural porterweed (Stachytarpheta mutabilis), pollinator favorite Basil 'African Blue' and silvery spiderwort (Tradescantia sillamontana 'Cobweb') has proven that unlikely companions can surprise us.   These flowers are not the showiest; however, they have attracted bees, butterflies, and hummingbirds constantly.  Once established they are all drought tolerant, complement each other well, and are happy to be together in the garden.
Now that the temperatures are cooler, visit and see which combinations are your favorite.