Friday, August 17, 2018
|
|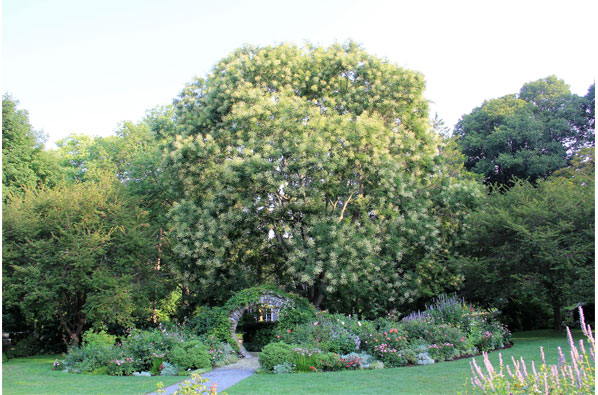 A Feast for Bees and a Seaside View
This week I could not help but notice the prolific blooms on the Japanese Pagoda tree (Styphnolobium japonicum) framing the Rose Garden moongate. It's an impressive display: a deciduous tree flowering   in the August heat. For the many species of bees, our friends, it's the party house on the property (with an open bar, no less).  Imagine thousands of flowers to drink from and it's no wonder it is the place for bees to be.  As I walk beneath the tree, there on the gravel path are many of the individual flowers that have gently fallen, giving a charming effect to the pathway. You must look upwards to see all the buzzing activity of the bees high up in the tree.
Taking a break from the sun and heat, our horticultural staff — Betsy, Joe, Julia and I — decided to walk down the shaded lane leading down to the dock and take in the sights of Narragansett Bay. This is the same path that Blithewold's family walked to their dock and the water, purposely planted with deciduous trees to ensure a shady stroll. I imagine them taking this walk often, over 100 years ago.  Once at the dock we're all struck by the gorgeous view of water, clouds and small islands.  I again think of how Blithewold's family must have cherished this exact view. We are all so fortunate that their property is preserved for visitors to enjoy — the gardens, trees, mansion and of course this spectacular view of the bay.
Click here to view Gail's video of the view from the dock.
Featured Image: The Japanese Pagoda Tree ( Styphnolobium japonicum)