Friday, October 5, 2018
|
|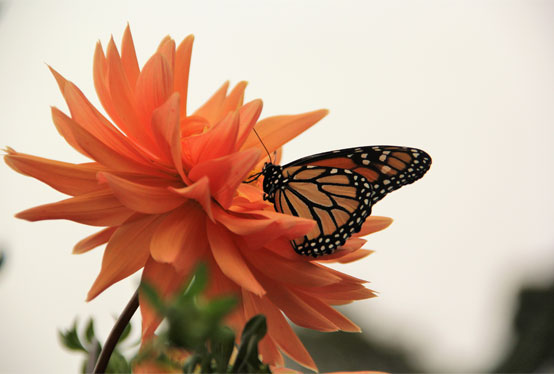 Magnificent Monarchs, Asters and Salvias
The perennial New England asters (Symphyotrichum novae-angliae) are all in glorious full bloom in the Idea Garden. In addition to their colorful visual effect in the garden, they also add movement with bees constantly flying from flower to flower. Yet another dimension is added by the soothing gentle sound of their buzzing. All the tiny flowers, together combined with the activity of the bees, create great sensory delight in the gardens. Perennial asters are definitely worth the wait.
Graham Rice, an accomplished English writer and gardener, described tender perennial salvias as "being like the friends you know who arrive late to a party and don't know when to leave". We have over a dozen varieties in the gardens and they will continue to bloom until a hard frost. Their vibrant colorful flowers are in all Blithewold's gardens. Tall Salvia mexicana 'Limelight', apricot pink Salvia 'Embers Wish' and purple Salvia 'Waverly' are happily mingling in the Idea Garden.
Just when I thought there was not a flower new to bloom this week, I saw the spotted trumpet spurflower (Isodon effuses) (formally Rabdosia longituba) in the Rose Garden. This 3' tall woodland perennial is just beginning to flower in the shade by the stone wall. The plant has many dainty flower spikes whose beautiful blue complements all the fall colors.
The biggest delight this week is seeing many monarch butterflies in the gardens. They are taking advantage of our abundant flowers to fuel themselves for their phenomenal southbound migration. Our gardens are sanctuaries not only for these little but mighty creatures but also for our visitors too. Come visit and watch all the activity.
Click here to view Gail's videos of pollinators in the gardens.
Featured Image: Monarch butterfly feeding on a dahlia in the cutting garden