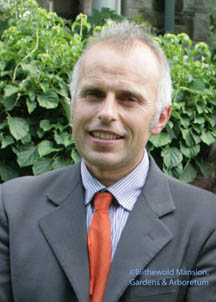 For a few hours on Sunday a living room-full of us were spirited away across an (insignificant) ocean to a place where gardeners grow. I'm still suffering (though suffering is definitely the wrong word for how I feel) from something kind of like jet lag. I feel like I was picked up and put back down on earth in a completely different place. I'm still getting my bearings. Nothing Fergus Garrett, head gardener and CEO of Great Dixter, talked about was particularly revolutionary and yet I'm all spun around.
As Fergus Garrett, head gardener and CEO of Great Dixter in East Sussex, England, spoke to us about the history of Great Dixter house and gardens, it was easy to draw some parallels to Blithewold. Both families put particular marks of their very own on their much loved houses and landscapes, and they passed on their passion for the garden to at least one of their children. Christopher Lloyd, an extraordinary plantsman and prolific garden writer learned the Fine Art of flower gardening from his mother, Daisy. "Christo" spent his entire life gardening at Great Dixter. He changed very little of his parents' design but was never fettered to the past. Through constant experimentation he pursued and taught a method of gardening that is not for the faint of heart: there are no rules. — well, there's one rule. Plant the right plant. And to that I'd probably add a doctrine: pay attention, stay engaged, take notes, and enjoy! There's nothing static about a garden – in any season. It's always changing and the passionate gardener revels in and directs the changes like a symphony conductor.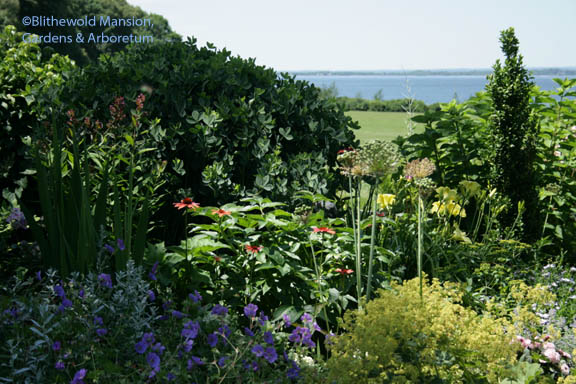 Walking around the Blithewold grounds with Fergus was itself a lesson for me. As proud as I generally am of our gardens, they seemed suddenly ordinary and contrived. Plants look planted. At Great Dixter there is a balance between the wild and natural – the tall-grass meadows full of East Sussex wildflowers, grasses and orchids – and the cultivated – crisply clipped topiaries and hedges. The same dichotomy grows with wild, meticulously tended abandon in their gardens. Fergus made a bee-line to our shoreline and studied plants there that I have taken so for granted that I don't even know their names. His mind is wide open and interested in every plant and its potential use in their gardens.
The good news is that passion can be taught by any good mentor and learned by us. The spirit of Christopher Lloyd – and his parents – lives on not only through the tradition of a constantly changing palette of plants at Great Dixter but in the imagination of all the avid gardeners and interns who pass through the Lutyens gate. Fergus' enthusiasm for gardening is as infectious as his mile-wide smile. Gail and I – and probably most of people who were in the living room on Sunday are ready to cross the pond to visit Great Dixter. We'd like to spend at least a week learning from the mentors there and definitely take Fergus up on his offer of cake. For more information on visiting Great Dixter, click here.