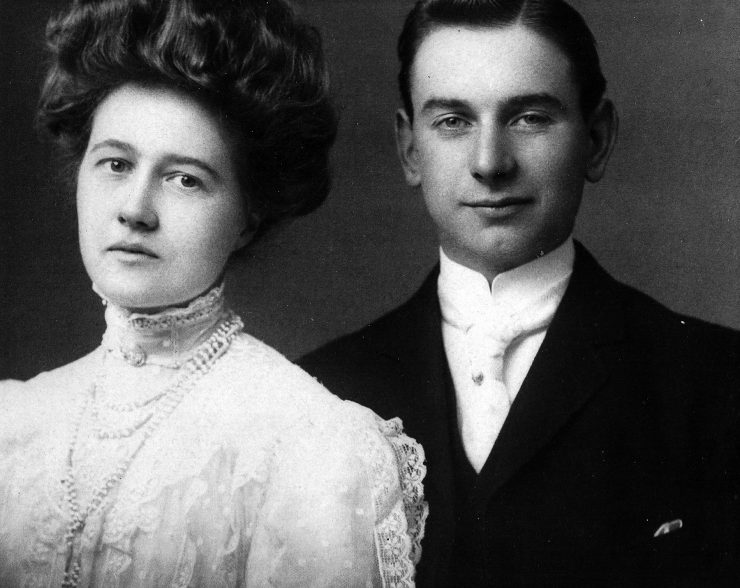 Arthur B. Rae was among Bessie McKee's most devoted and loyal estate staff. He came to work at Blithewold in 1906 and spent most of his adult life working for the McKee/Lyon family. His name appears frequently in archival letters and diaries, and when he died Marjorie memorialized him with a prominent plaque in the Rose Garden commending his 47 years of service to her family.
Arthur was born of Scottish parents in Billericay, Essex, England in 1882, the youngest of five boys. As they grew to adulthood the Rae brothers, one by one, immigrated to the United States, via Boston. His oldest brother George was the first in 1883, followed by William in 1885; they stayed in Boston. Alexander and Charles moved to Newport, R.I. Alexander opened a Transportation Garage in Newport, and Charles moved to Providence to work at the Nelson Aldrich home on Benevolent Street.  Arthur initially joined William in Boston in 1900, and in May 1906 he moved to Bristol to work for the McKees when Bessie hired him as coachman, first living in the old Gardner House. In December of that year Bessie reported the purchase of an admirable new pair of horses of which "Rae was very proud." In 1907 a helper, William, was hired to assist Arthur Rae, and Bessie reported, "Rae is happy, and William looks well on the box … We feel quite too swell for words."
In 1907 Arthur and his new wife, Ingrid, moved into the south apartment of the new garage complex at Blithewold, which became their home for the next 46 years and where they raised two children, Eleanor and Arthur. In the winter they followed the McKee family to their Commonwealth Avenue home in Boston. Arthur's early interest in automobiles made his transition from coachman to chauffeur an easy one. He became responsible for the maintenance and appearance of Blithewold's many vehicles — he drove and cared for a succession of large and expensive cars, from Simplexes and Locomobiles to Packards and Cadillacs.
Arthur was a dedicated, responsible and adaptable employee, always ready to meet trains and ferries, keep track of the voluminous baggage brought by host and guest, transport household staff back and forth between family homes in Boston and Bristol, drive the family to social engagements, and deliver produce and flowers from the gardens at Blithewold to the McKee home in Boston. Friends and family visiting Blithewold would leave their cars in the safe hands of Arthur Rae, and at the end of their stay would find their vehicles waxed, polished, and filled with gasoline.
In 1928, Arthur assumed management of the entire Blithewold estate. He took great pride in maintaining the property, first for Bessie and then for her daughter, Marjorie Lyon. As Bessie and her companion Estelle Clements aged and became less agile, Rae wheeled them through the gardens of Blithewold. Estelle's diaries comment often on his service and his friendship.
Arthur became a permanent Bristol resident and an active member of the Congregational Church on High Street where he was named a deacon. After his death, his eulogy praised "his exemplary life" and his "firm stand on things that are decent and fair," and a redwood he had nurtured was planted on the church grounds in his memory. Arthur and Ingrid are both buried in Bristol at the North Cemetery.
Arthur and Ingrid's grandson, Donald Rae, visited Blithewold recently with his wife, Frances. They live in California, and since moving away with his parents in 1948 Donald had only seen Blithewold once — about 30 years ago. He lived with his grandparents in the south cottage until he was nine years old and has vivid, happy memories of his time here. He recalls visiting with the maids in the servants' wing of the Mansion, fishing with his friend Ian Wilson from the dock, swimming and diving at the beach, digging clams for a clambake at the Golf Clubhouse, and sitting for hours on the Ferry Road fence watching the cars go by. He remembers his horror at seeing the maids gather periwinkles from the rocks at the beach and eat them with relish! Another fond Bristol memory was reading to Lewis Herreshoff (who was blind) when he visited Blithewold.
Don shared with Blithewold his collection of photographs from that time, including photos of his family taken inside the south cottage, and of him playing on a swing in the garden.