Friday, August 28, 2009
|
|
clouds
,
dahlias
,
How, When, What-we-do
,
T.S. Danny
,
to-do
,
weather
,
weather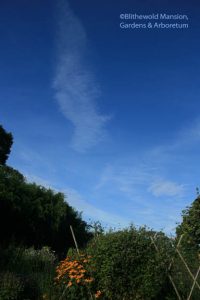 Yesterday's sky was dusted with those high flying cirrus mare's tails and mackerel's scales that precede a storm and the news is full of a tropical storm named for one of our groundsmen. As I write this, we still don't know yet if we'll be smacked around much by Danny but we've done what we can to prepare the gardens just-in-(worst)-case.
My great-grandfather, according to family legend, used to sit out in the rain with his plants and even risked his life (at least) once for the sake of his gardens. I don't think I'm inclined to follow in those particular footsteps…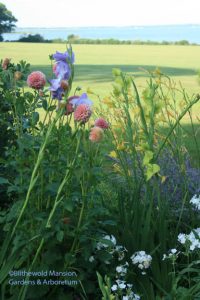 We have already staked most of the dahlias and the Cutting Garden floppers but made the rounds again today to make sure everyone is snug as a bug, tied up tight (not too tight). And since sometimes big blooms, especially on dahlias or brittle glads, act like sails in the wind we went ahead and removed some of the hugest to save the plant and any neighbors. Apologies to today's North Garden visitors…
Is there anything else you do to get ready for a storm?
Even if we don't get a lot of wind it looks like a pretty big rain is coming. June and most of July were super wet, but we're thirsty again already. I have my fingers crossed that the 2-3″ forecast are soakers rather than torrential washouts. Whatever is on it's way we'll have our work cut out for us on Monday – and no Lilah (Weed Woman) to help us anymore. Our intern extraordinaire is headed back to Bard just in time to dodge storm clean-up and/or watering detail and we're going to miss her madly!