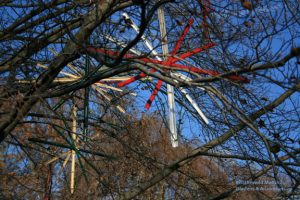 I'm stuck on a baublular theme because I have to rave about what Fred and Dan have hung from the trees this year.  Each year the staff, volunteers and visitors are surprised by yet another spectacular light show – from a star topped Giant Sequoia one year, to a Ginkgo with huge "fruit", to last year's flowering Star Magnolia.  And every year I think – "Whoa!  OK, this is my favorite!"  Well.  This year's night lights are my total top favorite of all time.  (At least until next year.)
In honor of Blithewold's Centennial Anniversary, Fred and Dan didn't hold back.  At all.  Seeing is believing that they used 1000 linear feet of bamboo and 10,000 lights to decorate two front lawn Beech trees with 50 stars each.   And you have to see it for yourself – I'll show a photo (if I get any good ones) only after everyone in the vicinity (a 1000 mile radius?) has had a chance to see it live first.  Ferry Road traffic has slowed for gaping rubberneckers – it's a little scary to think you might be hit by someone who's not watching the road anymore.  But it's so worth the worry for a drive by and even better, a stop in – I know I've already mentioned that the inside of the mansion is bedecked to the very nines too and not to be missed for all the dust in fairyland.
What is it about Christmas lights?  Is it an inner kid thing that makes me grin and want to clap when I see a good display?  Am I already so starved for daylight that I'll settle for staring at 10,000 tiny bulbs on a string?  Do you decorate with lights?  Why?