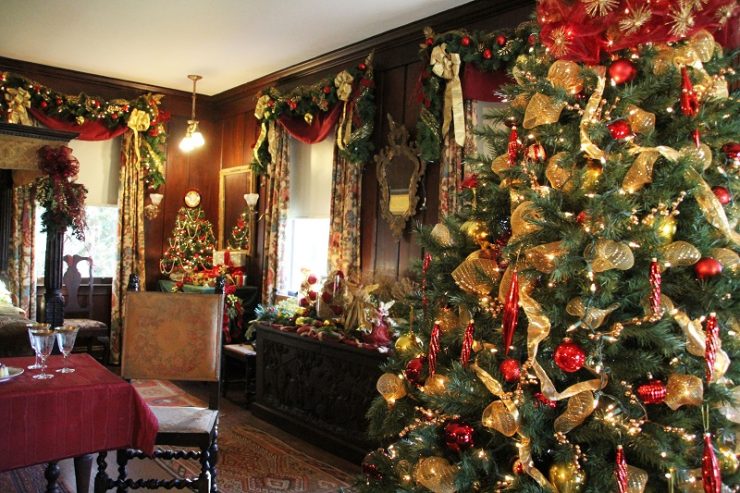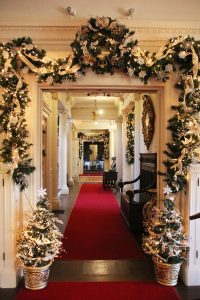 Many different pieces and people work together to achieve the splendor that is Christmas at Blithewold. The orchestrator behind the whole production is Sally Phillips, now celebrating her 15th year as Christmas season coordinator. Even before Margaret Whitehead, our Curator, requested her help in the Christmas sphere, Sally had been a volunteer, both as a docent and in the Archives. After a few years of being Margaret's second-in-command, the Christmas torch was fully passed to Sally and she has held it high ever since.
When I asked Sally about her favorite aspect of Christmas at Blithewold, she replied without hesitation: the people. "All of the volunteers and staff are so helpful and enthusiastic. Everyone loves to be here." Then she shared with me several anecdotes about the deep bonds that have been formed here at Blithewold between everyone who contributes to the Christmas magic. She continued, "Everyone has a warm place in their heart for Blithewold that truly shines through at Christmastime." And that can be truly felt from the moment anyone – staff, volunteers, visitors – enter the Mansion during Christmas.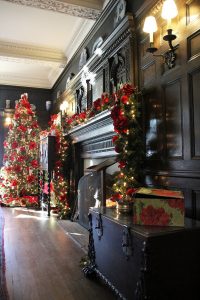 Sally will tell you that there are many rewards to her work of coordinating Christmas at Blithewold, but there are also some challenges. "Flexibility is key!" she proclaims. Things are constantly changing, so being able to adjust to whatever comes up is very important. Another key is communication. Everything that happens at Blithewold during this special season must be coordinated and blend smoothly together, so communication between the decorators, the Archives, and the special Christmas events programs is important. In the end, the hard work it takes to overcome each challenge is worth it when you stand in awe of the beauty of the Christmas display year after year.
I think all who have been a part of Christmas at Blithewold can agree that it is a very unique experience. Sally believes that our event is a rarity because of how the Family's history is infused into the Christmas celebration. Christmas at Blithewold is not just a collection of decorations, it is a presentation of the Family's history providing insight into their lives within the fun, festive atmosphere of Christmas. Each year, a different facet of their lives becomes the Christmas theme. Recent themes, for example, have been "Nature's Gifts," which showcased the Family's love of nature and "A Grand Tour of Europe," which illustrated the Family's widespread travels. This year's theme, "You Are Invited," features the VanWickle-McKee-Lyon family's love of entertaining, as they are known to have "entertained graciously." It is this rare historical aspect that provides depth to the Christmas decorating and gives a "human element" to the Mansion at Christmas.
As we look forward to enjoying all the magic in store for us this Christmas Season at Blithewold, don't forget hard working Sally Phillips and the other amazing volunteers. It is because of their care, dedication, and sense of fun that Christmas at Blithewold is a such a beautiful success every year!
To follow the continuing progress of Blithewold's holiday transformation, visit our Facebook page and Twitter. To see more photographs of Christmas at Blithewold, please stop by our Flickr and Pinterest!
Sincerely,
Kelly Sobolewski
Roger Williams University '16
Blithewold Communications and Web Design Intern