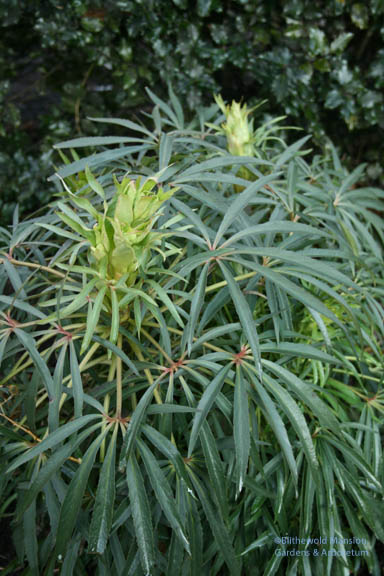 Just as soon as the dust has settled from the frenzy of December 25 and even before all of the gifts we've been given have found a permanent place in our homes (and gardens!) and hearts we have the fresh start of a new year to consider and plan. Some people (are you one?) make New Year's Resolutions. Personally, I try not to make resolutions because I have few reserves of resolve at this time of year and a half-hearted resolution now, for me is a waste of perfectly good guilty feelings later.
Gardenally, I think turn of the year motivational decisions are different creatures altogether. Unlike standard New Year's Resolutions that are often born from regrets and soon forgotten or discarded in a heap of self loathing, garden intentions grow out of hope and desire. They are self-fulfilling and don't have the odious chore-like feel of resolutions – it's just what we do! We start fresh. We take what we already have and are determined to do it better; make it better, prettier, and more enjoyable some way or other. We give our-gardener-selves deadline-free rein to dream and create and decide, undecide. Whether a little or a lot, we will follow-through and feel proud (sometimes secretly) of whatever we manage to accomplish.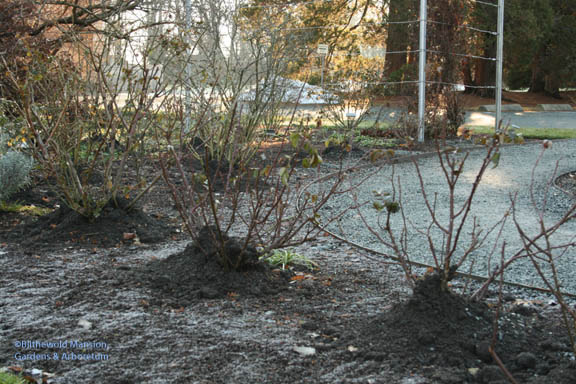 And I think as gardeners we tend to be more realistic about what we can do/want to do and are easier on ourselves when our dreams overshoot our abilities. Carol at May Dreams Gardens offers a guide for setting some garden "goals" – a way to organize the buzz in our heads of everything we desire for our gardens in the coming season. Does the New Year spur you to make resolutions, set goals or intentions for your garden? Are you easier on your garden than you are on yourself?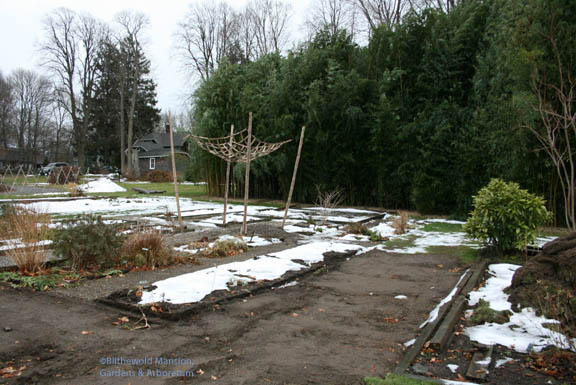 The Christmas snow melt revealed one of Fred and Dan's 2008 best garden intentions – before the ground froze they had begun forging ahead on the Display Garden redesign.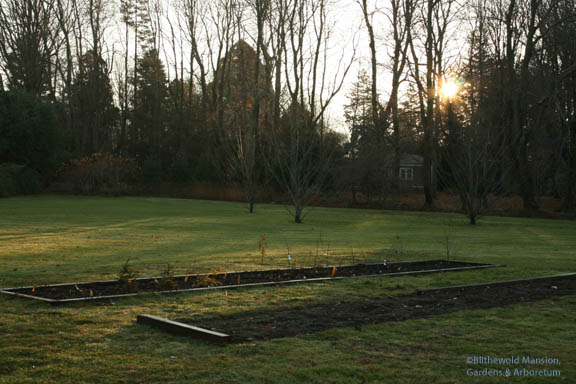 This past year they had the advantage of a weirdly warm early January to resod the area around the cement pond and they cut the new beds on the north side of the garden over the spring. This year, they intend to re-do the south side Idea Beds, move the nursery (along with a bunch of other projects on the grounds). And just like in any home garden, they are at the mercy of the weather, constrained by time and limited by budget – those are realities that keep us gardeners pragmatic. Gail and I, with the volunteers' help intend to plant up and beautifully maintain what the guys are able to give us. — Whatever we do in all the gardens, will be done to the best of our intentions! Happy New Year!