Wednesday, November 18, 2009
|
|
Annuals
,
dahlias
,
fall
,
fall
,
fall color
,
Garden Bloggers Bloom Day
,
greenhouse
,
November
,
weather
,
what's blooming
,
what's in bloom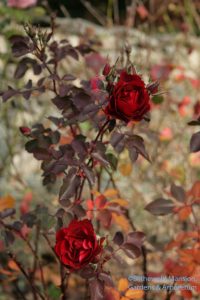 I think I probably speak for most gardeners in four-season climates when I say we don't really mind if our first, second and even third favorite season lingers a bit longer than usual. It gives us a chance to remember to revel in the change and pace ourselves as we complete the season's tasks. I also think a late start to the next season makes us all the more ready for it and I would go so far as to say that a late start might bump the coming season up in my estimation – even if my least favorite season is up next. (Generally speaking, the season I'm in is always my current personal favorite but Gail might tell you I shiver more and complain of cold hands during the winter.)
As we head full-steam into late November I'm thrilled over the idea of Thanksgiving roses but I'm also starting to feel a little disconnected from the calendar. It doesn't quite jive that there are dahlias still blooming outside and Christmas decorations up already inside. (The mansion is very nearly fully decked out for the holidays – the garden volunteers trimmed the big tree yesterday!) But I suppose that kind of juxtaposition isn't at all weird for gardeners with a longer growing season. Do you – or would you – prefer colorfully blooming summer-like winter holidays?
In honor of Garden Bloggers Bloom Day, better late than never, here are some of Blithewold's better-late blooms. Although frosts have been only patchy so far, I think we'll go back to the calendar today and finish putting the dahlias to bed. As sweet as a lingering fall is, it's time for us to get inside.