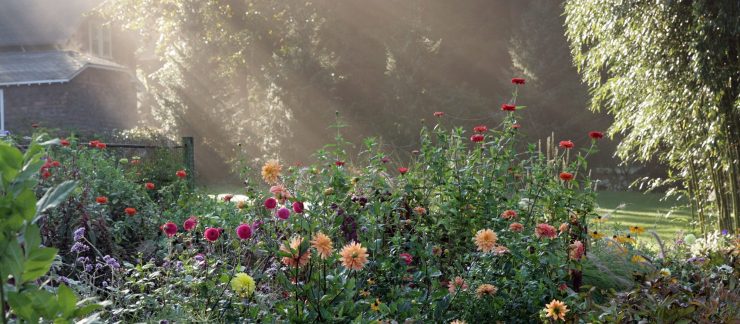 This week I have the privilege to introduce to you Sean Coffey, one of our Horticulture Interns.  It has been a pleasure working with him and we always enjoy hearing his perspective on the gardens and grounds. This is Sean's second season here and he has been up to any challenge we've thrown at him.  Sean heads back to school next week, so we thought we'd take this opportunity to let him share with you some of his favorite plants around Blithewold.
Hi this is Sean Coffey, Horticulture Intern here at Blithewold. For those of you who don't know me, I am a Landscape Architecture student at the University of Rhode Island about to enter my final year of school before I receive my bachelor's degree. This is my second summer here at Blithewold; last year (Summer of 2016) I was full time while this summer has been mostly three days per week. During my stint here at the gardens and arboretum, I have collected an abundance of knowledge both from the staff and by working with plants. My passion for horticulture and the landscape industry has grown exponentially over the past two years and a big part of that comes from working with Garden Manager Gail Read and Horticulturalist Betsy Ekholm. That being said, I would like to share with you my top 5 favorite trees and flowers. I will list these plants in no particular order and give a brief explanation on why each appeals to me. Here we go…
Top 5 Trees:
Japanese Snowbell (Styrax japonicus)

If you have the opportunity to visit Blithewold during late spring/early summer, the Snowbell on the shrub walk is an absolute must see. With it's graceful, drooping flowers, this tree shines brightly in its shady home near two towering Eastern White Pines. In my eyes the Snowbell possesses one of the prettiest shapes and flowers I have ever seen.

Cutleaf Japanese Maple (Acer palmatum var. dissectum 'Atropurpureum')

This Cutleaf Japanese Maple is located on a small island in Blithewold's water garden. This tree is small in stature but has amazing architecture and foliage. Its location provides this mighty tree with a pedestal to stand on while shining brightly in the morning sunshine.  This is a common tree often found in landscapes in the suburbs but this specimen will still catch my eye every time I pass by. Whoever planted this tree had the right idea.



Sargent's Weeping Hemlock (Tsuga canadensis 'Sargentii')

To me this is the most captivating tree on the property. 100+ years have molded this plant into a dominating pose that it now holds next to the mansion. Its cascading foliage brings a unique texture to the landscape and it also provided a space for Bessie (Blithewold's original owner) and her friends to gather underneath for card games. This is the best specimen of its kind in Rhode Island as it was listed as a Champion Tree in 2017 by the Rhode Island Tree Council.



Black Locust (Robinia pseudoacacia 'Lace Lady')

This Robinia is a fun, new addition to the Garden of Hope this year. Its combination of graceful form and dense foliage attracts your eye when walking through the Display Gardens.


Japanese Pagoda Tree (Styphnolobium japonicum)

You can see this magnificent tree when entering through the visitor's center. The way this tree has grown into its space is truly inspiring. It harbors a scattered foliage which allows the perfect amount of light to shine through. This characteristic is something that we pay close attention to in the landscape architecture community.

---
Top 5 Flowers:
Ranunculus

Ranunculus are my favorite flower at Blithewold. Maybe because it is the first flower that we plant when I arrive each summer but it truly has a beautiful structure. It also comes in a variety of colors.


Clematis

Clematis come in many different shapes and colors and can be found all over the gardens here. The flower colors and shapes are hypnotizing but even more amazing are the seed heads that the flowers produce after blooming (Picture #3). Their climbing growth habit is quite fascinating.

Dahlias

Dahlias have a truly beautiful form and provide an excellent pop of color late into the season. This summer I found myself heavily anticipating their bloom to be able to see their splash of colors.

Poppies

I have a hard time looking away from poppies when they are in bloom. The structure of the stigma and stamen seem almost as if they are engineered and designed to make people get closer to the flower.

Allium

These tall ornamental onions command your attention when you walk into the garden in late spring/early summer. This architecturally pleasing bulb shows off its powerful colors throughout the gardens here at Blithewold.

It's been a pleasure to share with you my favorite plants.  I hope you get a chance to visit and see some of these in person soon.