Wednesday, September 28, 2011
|
|
fall
,
fall
,
fog
,
garden maintenance
,
How, When, What-we-do
,
North Garden
,
perennials
,
projects
,
spiderwebs
,
vegetable garden
,
volunteers
,
weather
,
what's blooming
,
what's colorful
If it wasn't for the thick morning fog we might not know that the seasons are in an indecisive transition. And if we didn't crash through strands of fog-lit spiderwebs with every step we wouldn't know we were sailing into fall.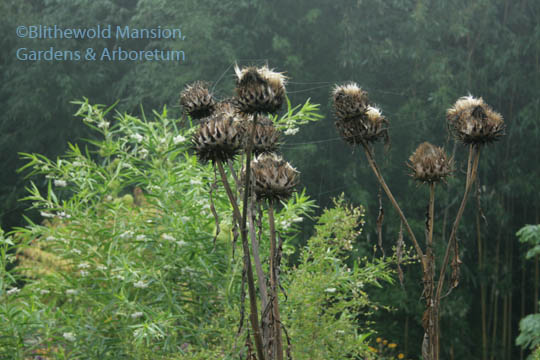 It's transition time for the gardens that feels a little like waiting out a slack tide. We're still enjoying all the activity in the garden; excited to see brand-newly blooming flowers (a subject for another post) and we're certainly not ready to let go of any of summer's color or seed heads. Instead we're spending more time on patrol for skrunky leaves and tenacious weeds. If you're in the same boat, trying to keep your garden looking its best for a few more weeks, try cutting back old leaves from Japanese anemone (leaving the seed heads, of course.) There's a life-raft of bright green foliage coming up inside the old – it makes a bigger difference than you'd think. And removing brown leaves from everything else – dahlias, phlox, veronica… is almost as gratifying as deadheading ever is. On the other hand, some plants blacken in a dramatic keep-able way. I wouldn't dream of cutting down these cardoon yet (above, left) or even any of the echinacea.
We've got big projects on the horizon that we're itching to begin as soon as the mansion closes for the season (after Columbus Day weekend; reopening the day after Thanksgiving for Christmas.) This winter the North Garden wall will be restored(!) and we need to move all of the plants out of the adjacent beds and into the vegetable garden-slash-nursery bed. The deadheads started making room in there yesterday (instead of deadheading.) We'll also take that opportunity to get into the other North Garden beds to amend soil and relieve years of compaction. We've got another big perennial haul-out planned (we've had it with the daylilies and enormous asters) and we'll do our usual musical-perennials with everything else, trying to get it just right for next year.
But for now we wait, fuss, and plan. Is your garden in transition too? Are you starting fall projects now or waiting until the last minute?
(Click on any picture for better view of webs, spiders, weeders, and fog.)