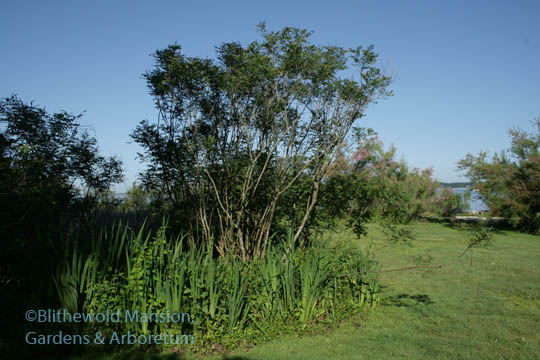 One of the issues that has come up in our Master Plan process is the need to identify and preserve Blithewold's "character defining" views — because it would be a rare garden or piece of property that did not borrow at least some of its beauty from outside of itself. And the views within the property or into it from outside are every bit as important and in some cases – probably for most of us with small urban gardens, even more worth preserving.
The vistas with the most obvious significance to Blithewold visitors have to include the views from within the property (both broad and keyhole) of Narragansett Bay. The property's placement at the edge of Rhode Island's shoreline is part of what makes us so special. There's a view of water at the very end of Love Lane that we glimpse driving in the main entrance; the sweeping view across the Great Lawn from the terrace and North Garden all the way to Poppasquash and beyond; and the view of Bristol harbor from the Rock Garden that's as precious as the inside of a Fabergé egg.
There are also important views of the buildings, like the view of the porte-cochère from the top of the driveway, the mansion's front door from Ferry Rd., and across the Enclosed Garden to the summerhouse. Add the glimpses we get of important landscape elements as we walk through the property and there are a dozen views altogether that can be called "character defining". (Of course, if it were up to me I'd add a few more – like any view of or into the Rose Garden and Moongate in June, and through the bamboo to the Display Garden and greenhouse…) The scope of the Master Plan reaches into the next 10-15 years but I imagine that we and those who follow us in this work will endeavor to never plant or build anything that will block the view.
In my own Master Plan process at home (don't we all need a Master Plan?) I have identified a few views worth preserving – the most important being the view of my back border from the window over the kitchen sink. But I have even more views that need screening, like the ugly view of the compost pile from where I sit at my desk. Have you identified views worth preserving – or blocking – in your own garden?
Do you have favorite views into or of Blithewold?