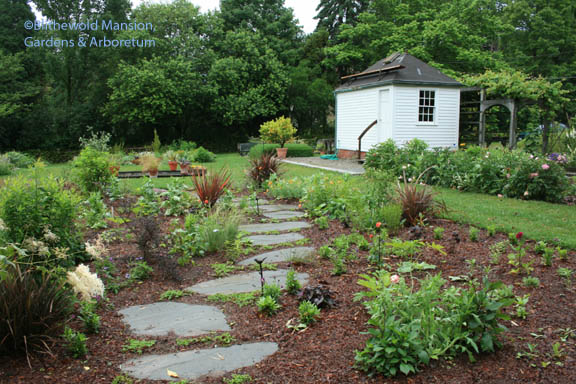 With the summer solstice behind us and all of the gardens planted, we've officially turned the corner and begun the  slide into summer. Now if we could just switch the weather machine to its summer setting we'd be all set. We're ready now. Gail and I haven't been whining much this wet woolly spring because it has been great for all of our tree, shrub and perennial transplants – they're settling in like champions and we haven't had to turn the hose on them once. But the annuals are a different story altogether. They're just sitting there like little lumps and it's hard not to take it personally. But there's nothing we can do but wait along with everyone else for a hot stretch and start complaining bitterly about the weather. I have to say that weather like this is a point in favor of mixing it up a little more than we did in the big display garden bed. The other gardens, which are about a third, a third, a third annuals, perennials and shrubs, look gorgeous right now even though a lot of the annuals are still biding their time – and of course later in the summer, when the perennials are quieter, the annuals (fingers crossed) will shine like the sun.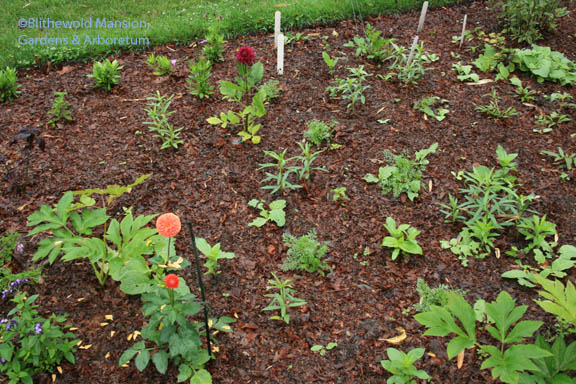 The local newspaper reports that we're still an inch and a little down on rain for the year which is hard to believe since they also report that April and May had only 3 sunny days each and June has had none so far. I don't quite believe that either because I know I've seen the sun a few times. But then I do dash outside to get more work done and soak it up whenever it makes the barest appearance. And for what it's worth, I remember to feel sorry for any of you stuck inside deprived of your daily dose of D.
Meanwhile there's not much to do but put lots of sugar on the watery strawberries, reap an extra harvest of slow-to-bolt lettuce leaves, enjoy the lingering scent of tardy sweet peas and mow the grass about 3 times before lunch. Even though Gail, Lilah, the volunteers and I have completed the major planting projects and it feels like we're not climbing that mountain anymore, we're by no means done yet. As every gardener knows – probably especially those of you who grow vegetables – there's a succession of planting and sowing to do all summer long and our work in the gardens can never be called finished/done/the end. And I have every faith that one of these days the sun will emerge, the annuals will rocket up to their full glory and we'll call all hands on deck for our summer schedule of diligent deadheading and you never know, maybe even some watering too…
What has your weather been like? Is it cause for complaint?