It's been really hard for me and other people I've talked to not to lament that the summer is flying by. There just doesn't seem like there's going to be time to take it all in and enjoy it. But of course there's time. We have the whole summer starting today and it just gets better from here.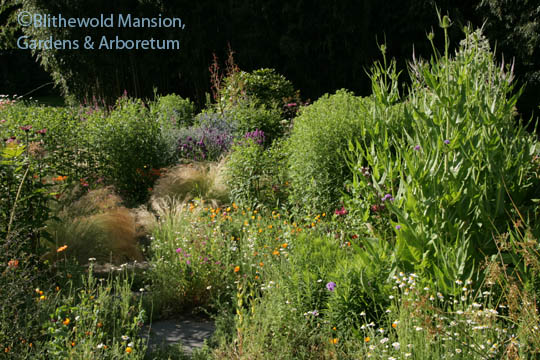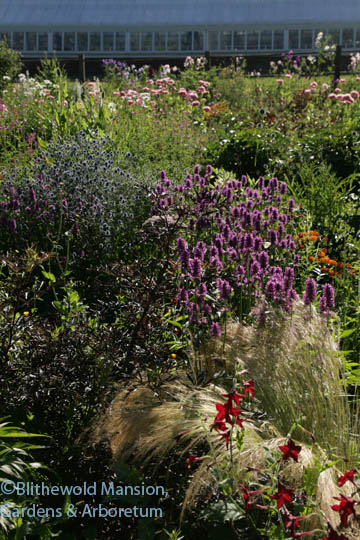 For a long time, the Display Garden was primarily a late-season garden, full of tender perennials and annuals that carried us blazing into fall. We still plant those plants down here (and in every garden) but since we also planted more perennials for pollinators in the last couple of years, it's turned into a stunning early-summer garden as well.
One of our favorite new perennials (new last year) is betony – Stachys monnieri 'Hummelo'. It's knee-high knobs of luminous purple are butterfly and gaze magnets. Last year we cut a few down after they finished blooming to see if they would send up another set. They didn't so this year we'll enjoy all of their the Piet Oudolf seedheads instead. Eryngium planum (sea holly) is another bee and butterfly magnet that looks as fabulous now as it will when the flowers fade to beige. The stems have weak ankles and need propping either between sturdier plants or resting on pea-stakes but it's worth it for the pollinator extravaganza. (There are usually an easy dozen different species of bees and wasps on the flowers at any given mid-day moment.) And early summer wouldn't be the same without cone flowers. Echinacea purpurea 'Virgin' is one of my favorites and keeps blooming for months. Months! – We still have months of summer left to go! And as the flowers go by we have their fabulous goldfinch-attracting seedheads to look forward to.
Visitors always seem surprised to see "asters" blooming this early. Kalimeris incisa 'Blue Star' is such a lovely long-blooming look-alike (on sturdy 2′ hedges of grass-green foliage) that I'm surprised it's not more popular. But then maybe not everyone wants to be reminded of summer's end right in the beginning.
Do you feel like summer is passing by too quickly or are you able to slow down enough to focus on appreciating every little bit of it?