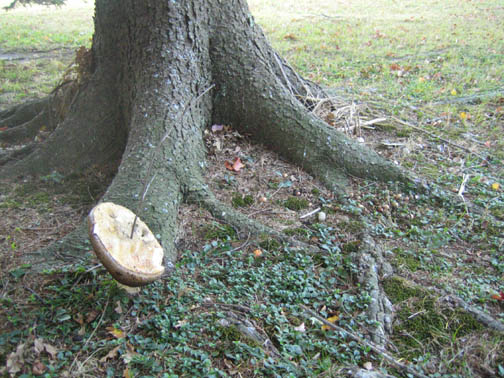 No doubt about it, Blithewold's fairies are Red Sox fans. They set up this satellite dish in time to catch the World Series and no one but this toadstool was out and about this morning after last night's fairy celebratory revelry. We believe!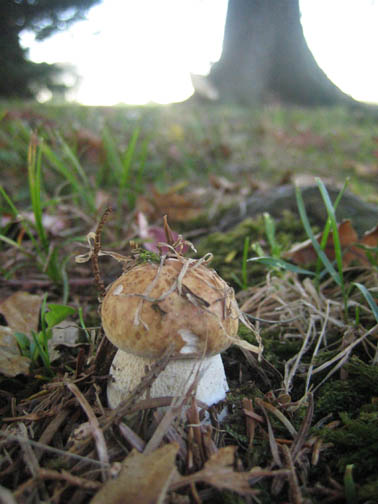 It's somehow fitting that last night was also the first night that the heat kicked on at my house. I always keep the heat set low over the winter to save energy. The folks who work in the mansion here at Blithewold know what conservation feels like too – it's chilly! I want to share a gardener's little trick for how to feel warm this winter: Go outside!! Everyone who came into the potting shed this morning (including me) said "whoa – it's toasty in here!" It was 61 degrees F inside!
Decked out in a stocking cap, scarf and polartec (I love the accessories of winter) I spent the chilly morning digging Dahlia 'Sneezy' up from the North Garden. It's better to wait for a killing frost before digging dahlia tubers but we're going to lose the volunteers soon and have to keep to a schedule and can't wait patiently for frost. (Even with the chill this morning, the frost wasn't a killer). Luckily the 'Sneezy's always have plump and healthy looking tubers no matter when we dig them or how awful the plant looks (some of them were smashed by neighbors and really scrunky looking). I cut off the stalks and will leave the tubers out to dry in the sun for a day or two before packing them in dampened sawdust and putting them in boxes down cellar. Aside from serious losses resulting from not unpacking some before hot and damp weather set in last spring, we were pretty happy with the sawdust method. Does anyone have a different tried and true method for overwintering dahlias? Enquiring gardeners want to know!
Tomorrow the we and the Deadheads will continue to winterize the North Garden. Many hands make light work and in no time at all, annuals will come out, perennials will be cut back and another giant pile of garden will be trucked off. We always try to leave some things in the garden for the lingering wildlife – I know where at least a couple of praying mantis egg cases are and last week we spotted this very-late-to-the-party monarch caterpillar on the move – probably looking for a spot to pupate. I expect that if we happen to find the chrysalis, Gail will rescue him and bring him home for her 8 year old to watch. (Don't worry he's not a wing-ripper-off-er!)