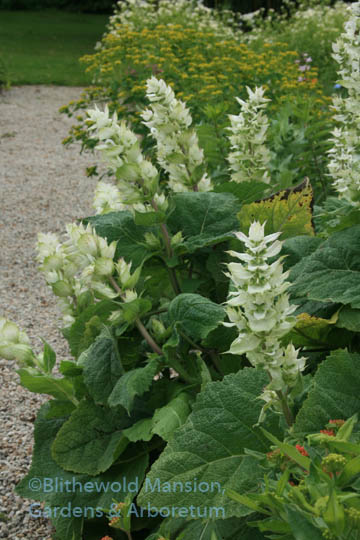 As we're blown toward a new year, I feel bound by tradition – or is it just habit? – to take a look back at the past year and make endless lists of plants to know and grow (and not grow). Below is a continuation of a list I started the other day of the plants I was particularly impressed with and want to see more of. They're in no particular order, and as always, I hope you'll click on pictures for a better view or hover over for captions.
Clary sage (Salvia sclarea) stopped everyone in their tracks – not just because at the edge of the path it was in anyone's way, but with its large fuzzy leaves topped by enormous luminous green(ish-white) salvia spikes. This is an early-summer bloomer with a reputation for being chock full of medicinal properties – perfect for an herb garden. Or a cutting garden if it happens to plant itself there…
Clary sage's large soft leaves couldn't hold a candle to wooly morning glory's (Argyreia nervosa) though. Gail spotted this plant twined 30′ high in a friend's garden last year and resolved to find one for Blithewold. She planted ours mid-summer, babied it through the heat, and it did its best to cover the vegetable bed arbor by September. It appeared to flower, sort of. We think. But it's really all about those silver heart-shaped leaves unfolding…
I really can't believe that Nicotiana didn't make it onto my Fine Gardening list last year. I am so in love with all of them – maybe I have a thing for large soft leaves. I always thought it was the flowers… Either way, they're great plants – so easy to grow, so lovely, so long lasting (they only just got hit by an extra hard frost) and so generous with their seeds. I'm always especially thrilled to see N. mutabilis and 'Lime Green' come back but I can't help order more varieties of seeds every year – every available variety, please and thanks.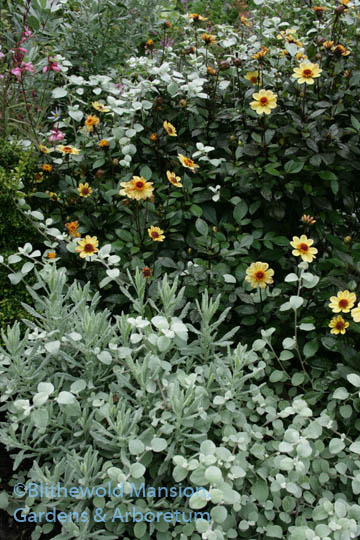 While I seem to be on the subject of awesome leaves I'll just add one more (two more) to today's post. Licorice plant (Helichrysum) is totally in keeping with some of the above for having really great wooly, silvery leaves. What I especially loved about this plant was how it wove itself through its neighbors in the North Garden – it's never just for containers.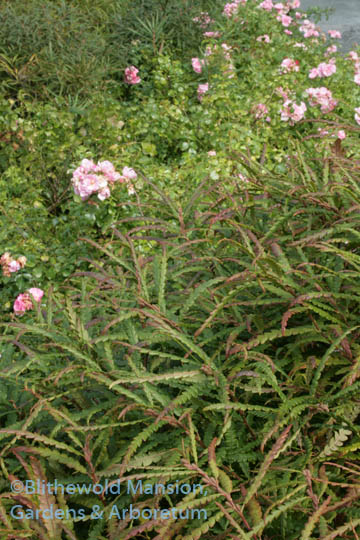 And now for something completely different: We've had sweet fern (Comptonia peregrina) in our entrance bed for a few years now so I'm not sure why I noticed it with fresh eyes this year. It could be because the mosquitoes were particularly persisitant and a visitor pointed out how you can use the leaves, lovely leathery, rick racked and fragrant things, as a natural bug repellant (rub on skin). Brilliant. Sweet fern is one of our natives too and if you can give it full sun and terrible soil – say that slope where nothing else grows – it colonizes beautifully.
There are a few more plants on the post-it note next to my keyboard and I have the feeling I'm forgetting something important, so this again is to be continued. Next year. — Happy New Year!