Tuesday, May 15, 2012
|
|
Euphorbia amygdaloides 'Craigieburn'
,
Euphorbia amygdaloides 'Purpurea'
,
Euphorbia longifolia
,
Euphorbia polychroma
,
Euphorbia x martinii 'Ascot Rainbow'
,
floral arrangements
,
foliage
,
garden design
,
How, When, What-we-do
,
perennials
,
what's blooming
,
what's colorful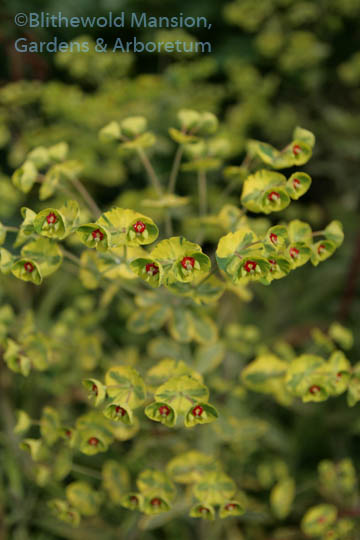 For this mid-May Garden Bloggers Bloom Day hosted by Carol at May Dreams Gardens, I'm going to postpone the usual list of all of the amazing things that are blooming suddenly all at once and go into euphoric raptures about a single fantastic genus that has been blooming for a while now. One of them even kept last year's blooms all winter.
Of all 2000 odd species of euphorbia in the world, we only have a half-dozen or so on the property. In a way that's plenty because the ones we have are pretty great, and on the other hand it's not nearly enough because who wouldn't want more?
At the top of my favorite spurges list is Euphorbia x martinii 'Ascot Rainbow'. Not only does it have stunning multi-colored foliage and fabulously intricate flying-saucer blooms but it looked fabulous through the winter. In fact, it still looked so good this spring that we weren't sure if we should cut it back. We decided to cut a few plants here and there to within a couple inches of the ground, and we left a few standing, and are planning on using their older stems for arrangements. That's one of the greatest things about euphorbia: they make really great nearly ever-lasting cut flowers.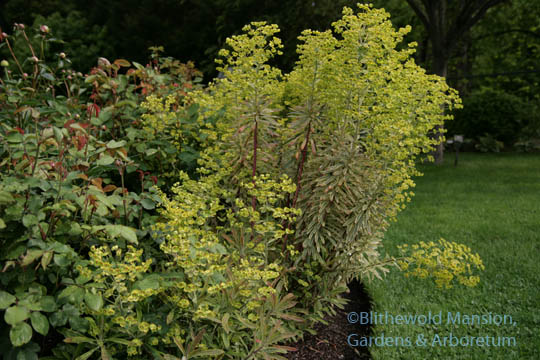 Euphorbia amygdaloides 'Purpurea' (below left) spreads generously (rhizomatously) in shade but we have it in full sun too in the Rose Garden. We transplanted bunches of it around from underneath the chestnut rose and it pouted for a good year (or was it two?) before finally looking stunningly settled. Never give up on a euphorbia. Last year we also planted 'Craigieburn' (below right) in the cutting garden I think I like that one even better for the subtle range of colors in its foliage and the extra acid in the green of its flowers.
E. longifolia (below left) has been seeding itself around the North Garden and Display Garden for years, which is great because we always have the option of using it where it lands or hoiking it out to make room for something else. After it blooms (it stands about 2′ tall) we cut it back hard to encourage a new flush later in the summer. That's a dangerous job because the sap of this one seems particularly caustic. Anyone who has ever gotten a bright red burning and wicked-itchy rash from spurge learns pretty quickly to wear body armor to work with it.
The cushion spurge (E. polychroma – above right) in the Rock Garden hasn't self-sowed although it's supposed to and I wish it would. It's too cute. We also have 'Bonfire', which has bright orange blooms and red foliage, up in the Display Garden but we don't have it in enough sun to show itself off properly.
I could go on because we also grow sticks-on-fire pencil cactus and crown-of-thorns in the greenhouse and those go to show how varied the genus can be. But I'm stuck on spurges. Which ones do you grow – or wish you did? For a look at what else is bloom (besides euphorbia) all over the country and the world, click on the links listed here.