Christmas at Blithewold, "A Garden for all Seasons"
Friday, November 27, 2015 to Sunday, January 3, 2016
|
11:00AM to 5:00PM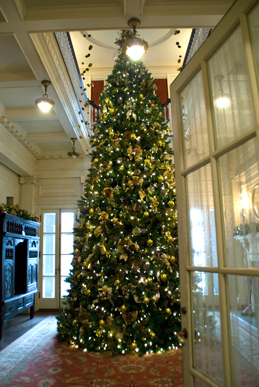 Blithewold's Christmas theme for 2015 is "A Garden for all Seasons," celebrating the Van Wickle family's love of nature. Stroll through the House and enjoy the way our dedicated volunteers have crafted the perfect decorations tailored to our theme; bringing the beauty of Blithewold's Gardens into each and every room in the Mansion.
Christmas at Blithewold begins November 27th, come and enjoy the elaborate decorations. Make a reservation for our fun and informal afternoon teas, our popular Santa sing-alongs, the joyous musical performances, and the creative workshops for both children and adults! Don't miss our our marshmallow-roasting-christmas-carol-singing-strolling-through-the-twinkling-garden-paths event called Sparkle, Friday nights in the Enclosed Garden and Greenhouse. Visit the Blithewold events page for a complete list of activities.
The Mansion is open for touring Tuesday through Sunday 11a.m. – 5 p.m. Buy your admission tickets online or at the door. Follow us on Facebook, Pinterest, Flickr and Twitter to see pictures of years past. Christmas at Blithewold concludes on January 3rd.