Family Nature Discovery Walks
Tuesday, April 18, 2017 to Thursday, April 20, 2017
|
1:00 pm to 2:00 pm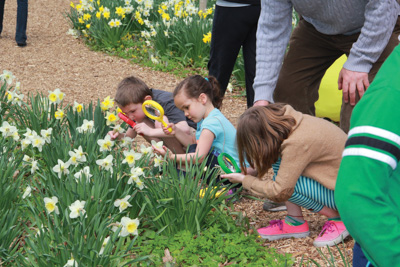 Family Nature Discovery Walks
April 18 & April 20
1–2 pm
Join us for an afternoon of observing and connecting to our natural world, important for both kids and adults in our busy lives. Participants will use a special nature observation kit, which includes a magnifying glass and observation box, to explore the vibrant world around them. Gardens Manager and tour leader Gail Read will guide us toward discovering for ourselves the sensory delights of nature.
The tour will begin in the Rose Garden, just behind the Visitors Center. Please wear comfortable, waterproof shoes.
Feel free to arrive early and enjoy a picnic lunch on the grounds!
Register early, space is limited. Click on date below.
Regular admission, plus $5 Adult, plus $3 Children. (Pay admission at the door.)