Gardeners' Day at Blithewold: An English Garden Tea
Monday, September 10, 2018
|
Begins 3pm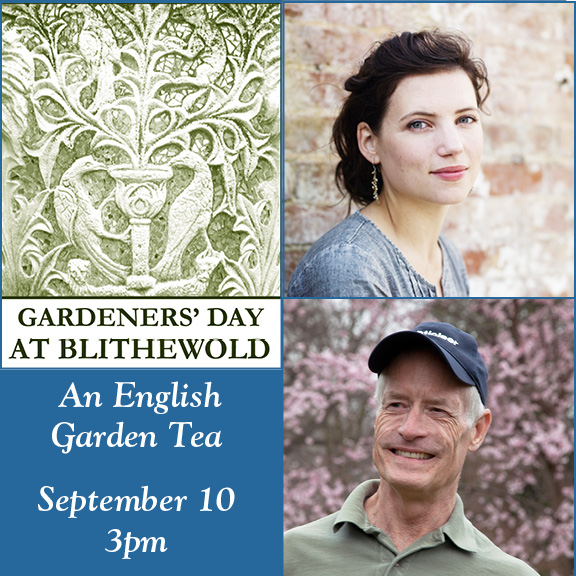 Gardeners' Day at Blithewold
An English Garden Tea
Monday, September 10, 3pm Afternoon Tea Time
Blithewold Mansion Gardens & Arboretum Tent/Van Wickle Pavilion
Featuring:
Sarah Price, UK Garden Designer (website)
and
Bill Thomas, Chanticleer's Executive Director and Head Gardener (website)
Join us for an afternoon tea at beautiful Blithewold Mansion. Presentations by Sarah Price, one of the most prominent garden designers in Britain and Chanticleer Garden's Executive Director and Head Gardener Bill Thomas
We have a limited ability to accommodate vegetarian diets as well as nut and celiac allergies. Please specify when making a reservation.
All proceeds benefit our Education Programs.
Pre-registration is required.
This event is sold out, please check back next year!

$85 – Single Ticket
$750 –  Table of Ten
Click here to register
More about our Speakers:
Sarah Price
Sarah Price Landscapes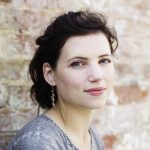 Sarah Price has rapidly established herself among the most prominent and sought-after garden designers in Britain. Drawing on training in fine art and a lifelong love of wild and natural environments, her gardens have an immersive quality and are often described as 'painterly'.
Price's practice is unusual for its breadth and scope. She co-designed the 2012 Gardens at London's Olympic Park and was a planting consultant for LDA Design on the post-Games legacy design. She continues to work on large public planting schemes as well as private projects. These include new community gardens and an exciting 'play' landscape designed in collaboration with MUMA for Cambridge University; an "Art Garden" at Manchester's Whitworth Art Gallery sponsored by Jo Malone London; and a garden inspired by the New Forest for a new Maggie's Centre in Southhampton designed by architects AL_A.
Price's designs have collected numerous awards, most notably at the RHS Chelsea Flower Show in 2012, where her Daily Telegraph Garden received a gold medal. Sarah is a contributing editor for Gardens Illustrated and also writes for House and Garden and The Telegraph. In 2016 Sarah was named Garden Columnist of year by the Garden Media Guild for her monthly series on landscape design.
Sarah is a visiting lecturer in planting design at the Department of Landscape at Sheffield University and has lectured at the New York Botanical Gardens, Kew Gardens, the Royal Academy, and The Royal Geographical Society in London. She received a first-class BA (Hons) degree in Fine Art from Nottingham Trent University in 2002 and in 2002–2003 was a full-time gardener at Hampton Court Palace, London.
R. William Thomas
Chanticleer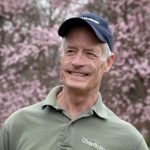 The British journal Hortus describes Chanticleer as "a romantic and imaginative public garden … a plantsman's dream, the equivalent of Great Dixter." Once the home of the Rosengarten family, Chanticleer is known for its residential-scale plant combinations featuring foliage textures and colors, a wide variety of containers, and imaginative homemade furniture. This is a garden where the staff are the designers, competing with each other and with the horticultural world to make the garden fun, visually exciting, and environmentally responsible. Join Chanticleer's Executive Director and Head Gardener Bill Thomas for a look at how the Chanticleer horticulturists design and plant.
Bill arrived at the 48-acre pleasure garden Chanticleer on April Fools' Day, 2003. He was previously was at Longwood Gardens for 26 years, the last five leading Research and Production and the prior 21 in Education. Bill works with the talented and creative Chanticleer staff in its continued development of the young garden, now in its 25th year. He emphasizes an environmentally sensitive and multi-century approach to the property and is unifying the former estate into one cohesive garden. The staff and he co-authored The Art of Gardening (Timber Press), recipient of the American Horticultural Society (AHS) Book Award. Bill is Chair of Greater Philadelphia Gardens, promoting the Philadelphia region as "America's Garden Capital." He holds a B.S. and an M.S. in Ornamental Horticulture from the University of Wisconsin-Madison and received the Scott Medal and Award in 2017 and the AHS Professional Award in 2016.