Garden Innovators: The Next Generation of Horticultural Rock Stars
Monday, June 4, 2018
|
2 - 4 pm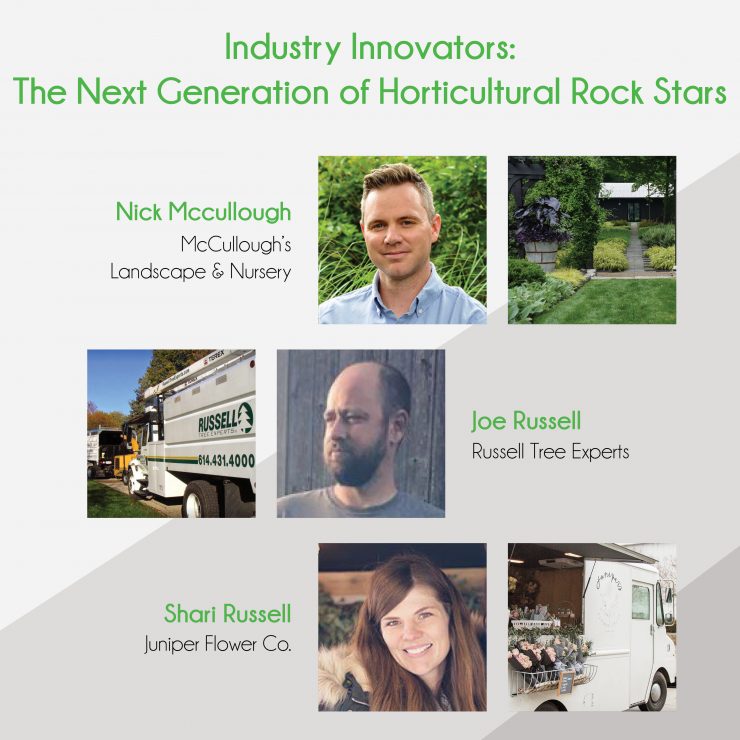 Garden Innovators:
The Next Generation of Horticultural Rock Stars
Monday, June 4
2 – 4 pm
Be inspired as this coming generation of horticultural innovators shares how they are breathing new life into the "green" industry. Join us at Blithewold Mansion in the new Education Space in our Carriage House for discussions on horticulture, landscape design, arboriculture, cut-flower farming and how these young professionals have adapted their businesses and have found success.
Food, drinks and networking to follow!
Credits offered. Food included.
$25 Members (Blithewold, RINLA, ISA, APLD, ASCFG, NOFA)
$35 Nonmembers
Click here to RSVP/Register

About the speakers:
NICK MCCULLOUGH – website
When it comes to the art and science of landscape design, Nick McCullough's talents lie in both worlds. His studies in horticulture and art history at The Ohio State University gave him a unique perspective on every design project. Furthering his experience, he also studied landscape design in northwest England. The aesthetic of English gardens made a profound impact on Nick, and many of his projects have ties to the classic design elements found in the English countryside.
Nick is an APLD-certified designer who has won numerous awards including Young Professional of the Year from Perennial Plant Association and Ohio Nursery and Landscape Association. A self-described "plant nerd," he is passionate about perennials and has a masterful understanding of how plants thrive in the Midwestern climate. This love of cultivating extends to Red Twig Farms, the nursery extension of his business, where unique perennials, annuals, specimen trees and hedges are grown for use in his designs. His social media presence — over three million Pinterest followers — makes him a standout in the industry and a sought-after public speaker. Writer of the blog Thinking Outside the Boxwood, Nick has also been a featured writer for publications such as Garden Design magazine. Nick currently serves on the national board of the Association of Professional Landscape Designers.
Nick has owned and operated McCullough's Landscape & Nursery, LLC since 1997. Family- operated, the business is a blend of his artistic vision, his Midwestern roots, and a genuine love of making exceptional properties truly extraordinary. Nick lives in Central Ohio with his wife Allison and their two children.
JOE RUSSELL – website
For the past 13 years, Russell Tree Experts has been a central Ohio leader in tree service. Husband-and-wife owners Joe Russell and Shari Russell pride themselves on educating and training all their associates to be the very best arborists in the industry. They also strive always to use state-of-the-art technology to work as safely and efficiently as possible.
Russell Tree Experts focuses on creating sustainable woody landscapes that enhance urban communities and strengthen your memories of home, for generations to come. We are dedicated to industry approved standards for proper pruning, safety and tree care management. We recognize that beauty starts from within and aim for holistic approach to plant health care with organic products and solutions focused on creating lasting disease and insect resistance.
Joe Russell has been a Certified Arborist since 2003 and is active on the Board of the Ohio Chapter of the International Society of Arboriculture. He graduated from Ohio State University with his bachelor's in landscape horticulture and a minor in Ag Business and started Russell Tree Experts with his wife Shari in 2005. Joe grew up in the Ohio Valley near Wellsville, Ohio and is a resident of Gale
SHARI RUSSELL – website
Shari has been working in flower shops and studying floral design since 2001. She has studied with some of the best designers in the country: Francoise Weeks, Ariella Chezar and Susan McLeary, to name a few. She has a degree in horticulture from Ohio State University, where she met her husband, Joe. Their shared plant knowledge and passion for design sparked the idea for Juniper's Flower Truck. Joe has a passion for arboriculture, machinery and unique vehicles. He found a 1974 Chevy Stepvan P30 on Craigslist and, with the help of some very talented mechanic friends, turned a once-ice-cream-truck into a dream come true. We can't wait to share our story with you!
The Farm
The backbone of Juniper Flower Co. is our 30-acre farm, located just outside of Westerville, Ohio, near the Hoover Reservoir. We grow a variety of annuals, perennials and woody plants each year, and those flowers are the main resource for the designs and products featured on our flower truck. We are focused on farming practices that are kind to the environment and safe for our family and neighbors.