"The Life and Gardens of Beatrix Farrand": a documentary film with Emmy-winning filmmaker Karyl Evans
Sunday, May 6, 2018
|
1  ̶  3 pm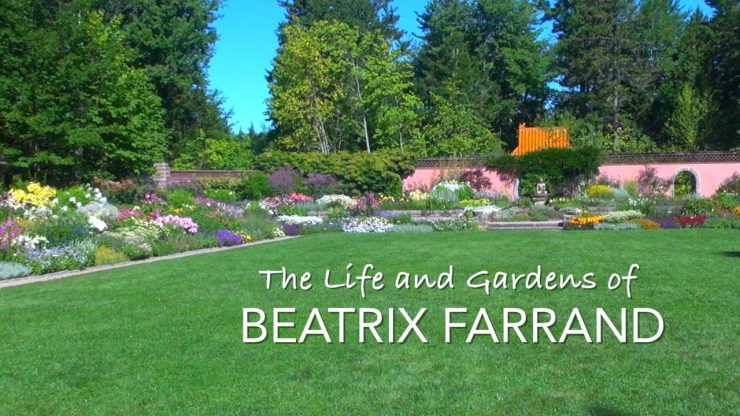 "The Life and Gardens of Beatrix Farrand": a documentary film with Emmy-winning filmmaker Karyl Evans
Sunday, May 6
1  ̶  3 pm
Six-time Emmy-Award-winning documentary filmmaker Karyl Evans has combined her two greatest professional interests  landscape architecture and filmmaking  to create "The Life and Gardens of Beatrix Farrand". Join us at Blithewold Mansion for this breathtaking documentary chronicling Farrand's 50-year career as a landscape architect during the first half of the 20th century. Some of the gardens Evans chronicled for the film include: the Abby Aldrich Rockefeller Garden in Seal Harbor, Maine, Dumbarton Oaks in Washington, D.C., the East Garden at the White House, the Rose Garden at the New York Botanical Garden, and Farrand's campus work at Yale and Princeton Universities, as well as three significant Connecticut gardens. This film also includes over 500 garden photographs, rare archival images, and interviews with Farrand scholar Diana Balmori, landscape historian Judith Tankard, and landscape architect Shavaun Towers. The documentary is a splendid overview of Farrand's stunning gardens, her pioneering innovations on college campuses, and her ingenious design philosophy, which has stood the test of time.
Refreshments will be served.
Members $25, Nonmembers $35
Click here to RSVP/Register

More about the filmmaker: Karyl Evans is a six-time Emmy Award winning director/producer/editor/writer of documentary films. In 2016 Ms. Evans won the National Academy of Television Arts and Science's Best Director Emmy Award for her one-hour documentary Letter from Italy, 1944: A New American Oratorio, narrated by Meryl Streep.
Ms. Evans, owner of Karyl Evans Productions in North Haven, CT, has produced many historical documentaries over the past 25 years including The New Haven Green: Heart of a City, narrated by Paul Giamatti, as well as a series of documentaries for public television including the History of African-Americans in Connecticut and the History of Connecticut's Cities. Earlier in her career Ms. Evans worked in Los Angeles in script development for director Taylor Hackford and on a literature-based children series with Shelley Duvall, and was a Production Associate on Legacy of the Hollywood Blacklist for national PBS.
Ms. Evans' undergraduate degree is in Horticulture and Landscape Architecture, and she earned her Master's degree in Filmmaking from San Diego State University. Ms. Evans was a full-time professor at Southern Connecticut State University for two years, teaching film production and theory. She is a Fellow at Yale University and is one of the organizers of the New Haven Documentary Film Festival at Yale.
For more information about Karyl Evans visit her website.