Music at Sunset: Concert Series 2023
Thursday, August 31, 2023 to Wednesday, September 6, 2023
|
6 - 8 PM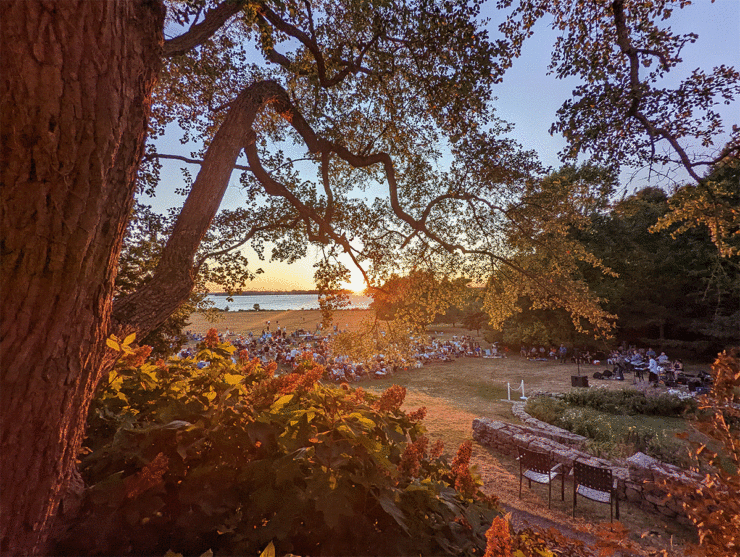 Music at Sunset: Concert Series 2023
Wednesdays, June 7 through September 6
Music from 6 – 8 PM
Parking and Check-in open at 5 PM
Spread out the picnic, soak up the warmth of the summer sun over Narragansett Bay, and enjoy a variety of musical performances by local musicians. Wednesday nights at Blithewold are the perfect way to enjoy summer with friends and family!
Guests are encouraged to bring picnic dinners and chairs or blankets. We have 33 acres of gardens and grounds, including a 10-acre lawn, where you can spread out and enjoy the music and gorgeous views over the bay.
---
Preregistration is required!
Tickets will be sold online only. Carload pricing is for 4 passenger cars and 2 passenger cars.
Additional tickets need to be purchased for additional passengers arriving in the same car.
The day before the concert you will receive a printout. Please print it and place it in the windshield of your car. It will be checked in when you arrive.
Rain dates for some concerts.
4 Passenger Car (1 car with 4 or more passengers):
$45 Member car | $60 Non-Member Car
2 Passenger Car (1 car with 1 to 3 passengers):
$25 Member car | $30 Non-Member Car
Add on additional passengers:
$12 Adult Member | $15 Adult Non-Member
$5 Child (5 to 17 years old)
No car (biking, walking, or drop-offs):
$8 Members | $10 Nonmembers
---
Pre-Register below:
Thursday, August 31: The Sunshine Melodies: Steelpan Reggae (More about the band)
4 Passenger Car | 2 Passenger Car | No Car
September 6: The Oh Nos: Beatles tribute band (More about the band)
COMPLETELY SOLD OUT
Take a look at concerts from earlier in the season:
Panoramic View (More about the band)
The DMB Project (More about the band)
Atwater-Donnelly Band (More about the band)
Bay Swing (More about the band)
The Ravers (More about the band)
Colby James & The Ramblers (More about the band)
Turas – Irish and Celtic music (More about the band)
The Whelks (More about the band)
The Cajun Hobos (More about the band)
Cold Chocolate (More about the band)