Music at Sunset- Summer Concert Series
Wednesday, July 17, 2019 to Wednesday, September 4, 2019
|
6 - 8 pm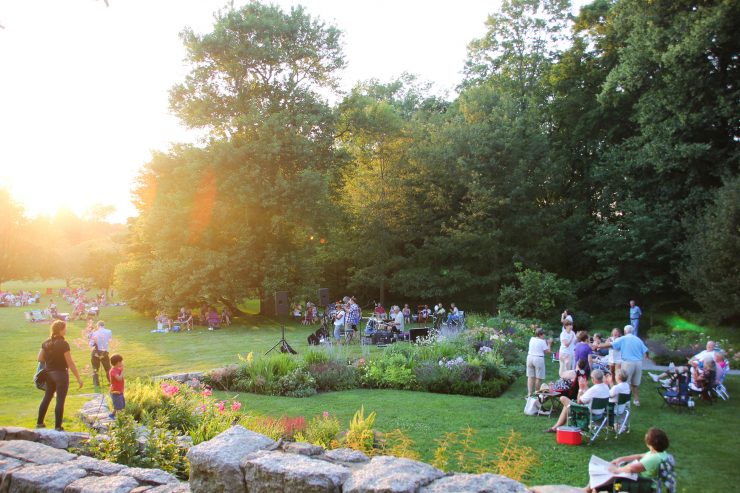 Music at Sunset- Summer Concert Series
Wednesdays, 6 – 8 PM
July 10 through August 28
Doors open at 5 pm
For parking and weather information, click here.
Spread out a blanket and unpack the picnic basket, soak up the warmth of the summer sun, and enjoy the sunset over Narragansett Bay, all while savoring a variety of musical performances. A perfect way to celebrate the summer with friends and family! Food trucks or BYO picnic dinner, chairs or blankets.
Pre-order a picnic box prepared by The Kitchen at Blithewold here. All picnic boxes include a house-made sandwich, freshly baked chocolate chip cookie, potato chips and bottled water.
The King Arthur Flour Bake Truck will also be making a special appearance on August 14, baking up delicious chocolate chip cookies and giving them away for donations. The donations will benefit the Blithewold Summer Garden Program – all harvested produce is given to the East Bay Food Pantry.
Pre- Registration: $10 Members | $12 Non-Members
Walk-In: $12 Members | $15 Non-Members
Children 3 and up: $3 Members | $5 Non-Members
Pre-Registration tickets will be available online until 3:30 pm each Wednesday.
Pre-Registered guests plan to arrive early, even though you have your ticket, the best parking spots will go fast!

Click on the date below to pre-register:
September 4: Panoramic View Steel Drums (More about the band)
---
Parking:
Our parking is limited, please try to carpool and be sure to arrive early. Concert attendees can also park at The Columban Fathers Retirement House parking lot just north of Blithewold (65 Ferry Road). CAVEAT: This lot will occasionally be unavailable due to excessive precipitation.  There is a path from that lot to the Blithewold parking lot, leading to the Education and Visitor Center where you'll need to check-in or purchase concert tickets.
Please do not park in the surrounding neighborhoods unless you are directed to by our parking personnel.
Here are some ideas for alternate transportation:
The #60 RIPTA Bus, this bus will drop you right in front of Blithewold.
If you are staying at one of RI's lovely hotels please use their shuttle, if possible.
Ride your bicycle
Weather:
In case of rain, the concert will be held under the tent. If there is a threat of lightning, however, our event tent cannot be used for safety reasons and the program will be canceled. In the case of a cancellation, this page will be updated, and an e-mail will be sent to everyone who pre-registered.
Pets:
Please leave your pets at home. Only certified service animals are allowed on the property. Service animals should be clearly identified as such by wearing a harness, vest or tag.