Tea and Scones on the Porch
Thursday, July 28, 2022 to Sunday, October 16, 2022
|
Seatings are at 11AM & 1PM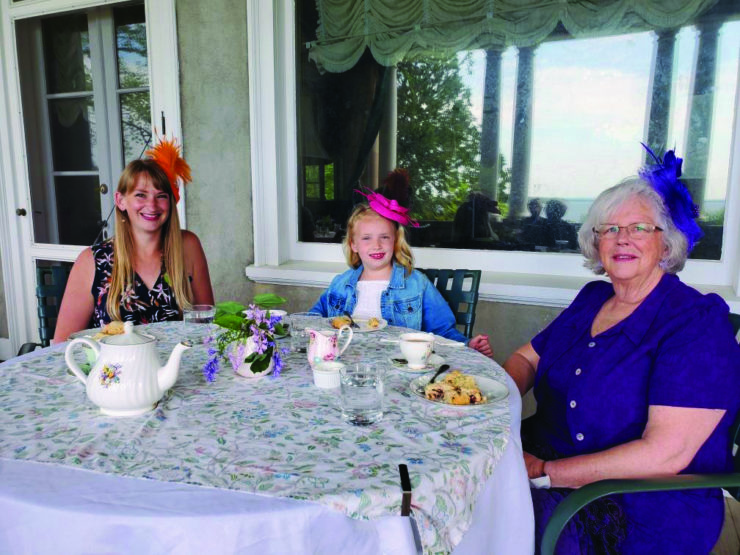 Tea and Scones on the Porch
May 19 – Oct 16 | Thursday – Sunday
Seating at 11 AM and 1 PM
on the North and Northwest Porches
Get outside with some friends on one of Blithewold's porches for a cup of hot tea or iced tea, and freshly baked scones with clotted cream. Catch up while enjoying a beautiful view of the Bay and Blithewold's gardens. Come out, sit down, relax, and enjoy the moment. The price for Tea includes admission to the mansion and grounds, so be sure to leave time for strolling!
Please read through the information below before making your reservation.
---
Important Information:
We have limited seating at this time to 8 tables per seating, 4 maximum per table. Only parties of 4 or less will be accepted. If you want to bring more than four please understand you will be at separate tables. This is to maintain social distancing for the safety of guests and staff.
We currently can't accommodate any food allergies.
There is no children's price. If your child will be enjoying the food, they require a ticket. If they are too young to eat it, they do not.
Unfortunately, we are unable to take individual payments for each member of a group. Payment must be made for the entire party at the time of registration.
In cases of heavy rain or wind, the tea will be brought inside the Mansion. Garden rain checks will also be given in cases of very inclement weather.
Gratuity is not included but is always appreciated.
If you would like to book more than four people, pleases contact Allan Millora ([email protected]) to schedule a private event.
---
Our teas fill quickly and are by prepaid reservation only.
$15 Members | $28 Nonmembers*
*Additional processing fees apply to nonmember tickets.
Click on a date below to purchase your seat for Afternoon Tea.
This list is updated Mon-Fri.
October:
Thursday, 6 – 11 am
Thursday, 6 – 1 pm
Friday, 7 – 11 am
Friday, 7 – 1 pm
Sunday, 9 – 11 am
Sunday, 9 – 1 pm
Thursday, 13 – 11 am
Thursday, 13 – 1 pm
Friday, 14 – 11 am
Friday, 14 – 1 pm
Saturday, 15 – 11 am
Saturday, 15 – 1 pm
Sunday, 16 – 11 am
Sunday, 16 – 1 pm
---
Become a member and receive early exclusive notifications when Afternoon Tea reservations are open. Join here!