Bristol Yoga Studio: Outdoor Yoga Series
Friday, June 9, 2023 to Friday, September 22, 2023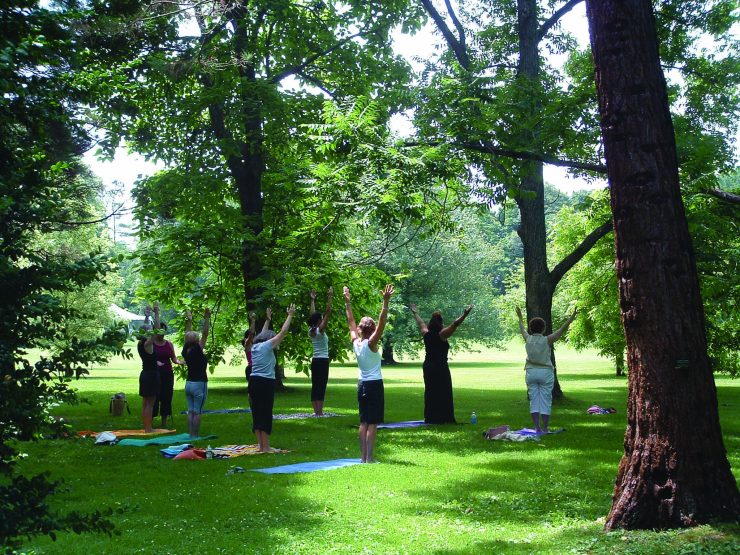 Bristol Yoga Studio: Outdoor Yoga Series
June – September
Mondays | 6 – 7 PM
Fridays | 9:30 – 10:45 AM
All students must preregister for classes at their website here. We cannot admit drop-ins. Space is limited to encourage distancing.
Guidelines for all outdoor yoga classes can be found online and will be continually adjusted to meet the requirements outlined by the State of RI, you can view them HERE.
Blithewold and Bristol Yoga Studio present an outdoor summer yoga series each Friday morning. All are invited to join in for an inspiring class under a canopy of trees, amidst the gardens and waterfront property. Bring a yoga mat and water, and wear comfortable clothing. Dates subject to change. Please check the Bristol Yoga Studio website beforehand for weather updates. Bristol Yoga Studio class passes welcome.
No community props will be available.
Students should bring their own mats, blocks and blankets. We recommend everyone bring bug spray!
In the event of poor weather, the class will be moved online. Students are welcome to join the online class or to rebook another outdoor yoga class with BYS.
Classes will be $10 for student/senior/member, $15 all others, or the Bristol Yoga Studio class cards.
Sorry, we cannot accommodate walk-ins.
Click here to register on the Bristol Yoga website.