The Annual Meeting is behind us, the (monthly) Garden Soirees are before us, visitors visit daily and the blooms must go on! I know I'm not the only one who tidies madly at home for invited guests and then slacks off the dusting when it's just me and mine eating in. At Blithewold though – and any garden open to the public, there's no napping instead of mowing or sipping iced tea in the adirondacks rather than deadheading! We're on the "garden tour" every day and it's important to us and to our guests that the gardens and grounds look well tended.
The night of the Annual Meeting was chilly enough to move the party indoors
and despite the ominous clouds and bitter wind, several Blithewold devotees wandered the grounds. We (I think I can speak for Julie, Gail, Fred and Dan) were extremely gratified to hear over and over how beautiful the property looks and how well cared for it is. And we were back bright and early the day after to keep at it.
The Florabundas (the Thursday volunteers) who cleaned grape hyacinth out from under the chestnut rose last week, did the same thing on the other side of the Visitor's Center yesterday. The bed with climbing roses on the west side of the rose garden has been getting more and more concrete-like over the years and we spent the morning forking out weeds and bulbs and working a little air in finally. (The entire Rose Garden definitely has a compaction problem because we stand and walk all over the beds when we tend the roses.)
Today, I've been trying to concentrate on getting more plants out of the greenhouse. But just like moving out of a house, I'm not loving this part of the process! I much prefer the part at the end of moving where I get to feng shui the pots around the garden. I also love to groom potted plants and keep getting distracted…
So rather than fight it, here's some blooms for Garden Blogger's Bloom Day: The lopsided Styrax – blooming only on the east side. Fred thinks its because of the weird winter or maybe it's not getting enough sun (there's a bunch of Styrax's not blooming at all…)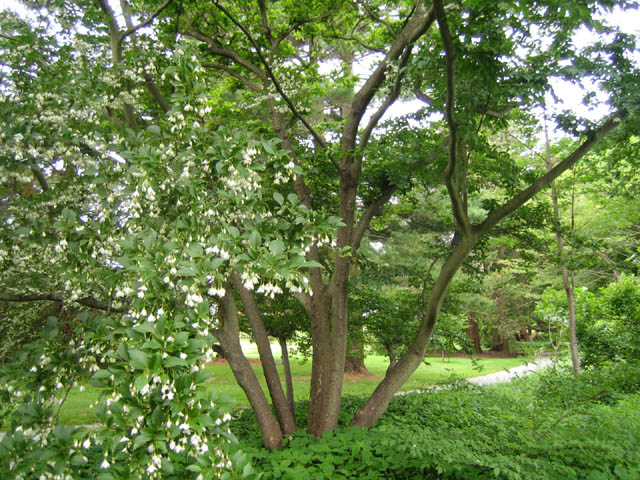 The Aegopodium is blooming away in the Bosquet. It really is a pretty ground cover but it's completely obnoxious and invasive — don't plant it!!!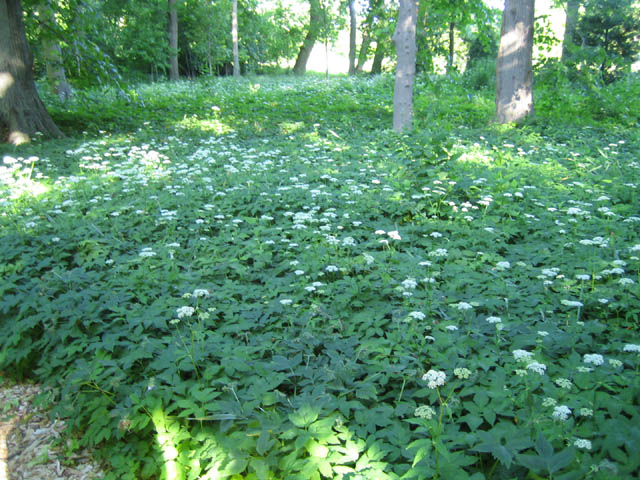 This is a Persicaria or maybe a Polygonum. Anyone know for sure what it's called?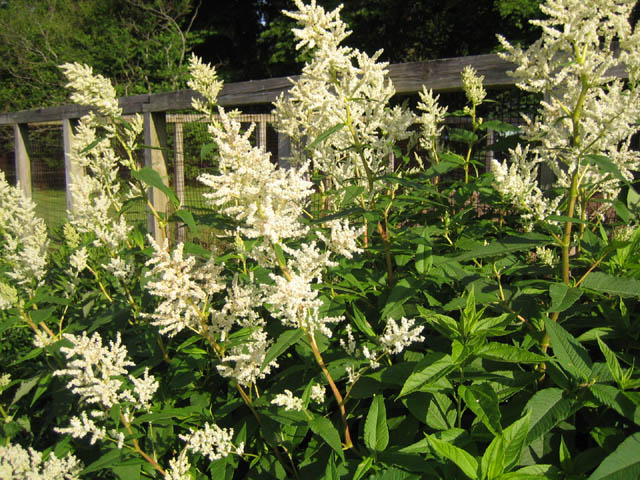 One of my new favorites is Allium 'Hair'. It's definitely morning monster hair rather than a frenchgirl coif… Gotta love it! (Or do you?)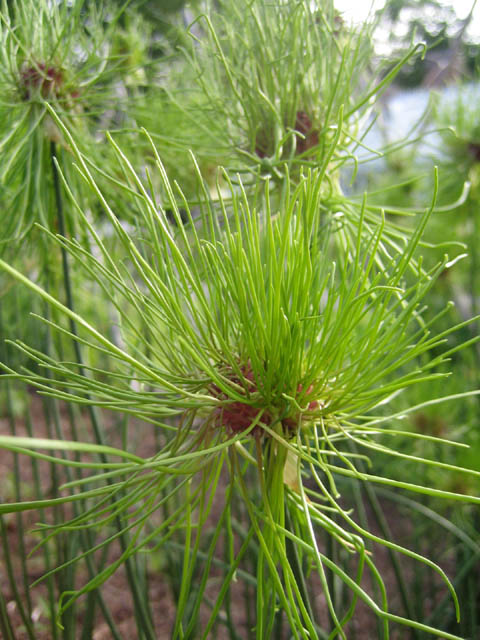 And for color here's Papaver atlanticum semiplenum with a busybee.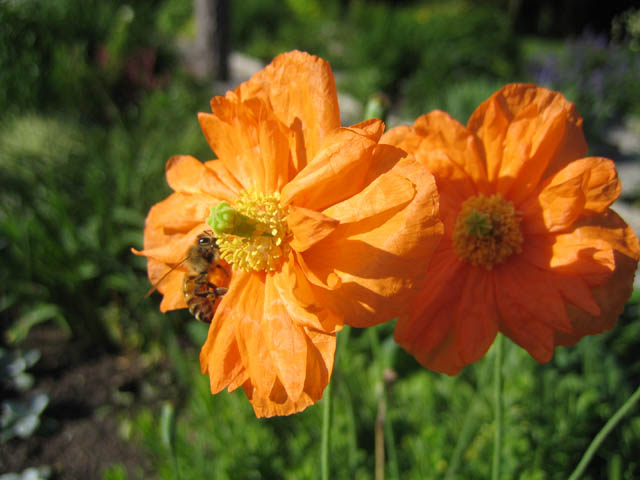 Finally, not-a-bloom but a beneficial-to-be — a teeny! weeny! praying mantis! (I saved him/her from a spiderweb and it didn't want to stand still for a portrait – but I insisted.)