Tuesday, September 30, 2008
|
|
weather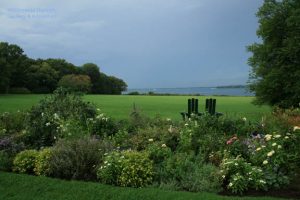 The gardens were a little soggy yesterday.  I could hear the ground actually percolating in places where it wasn't ankle deep in mud.  There's nothing like a weekend of non-stop rain (the rain gauge overflowed at 5″…) to make little fungi-brellas pop up everywhere and some plants looked like someone extra large had sat upon them. It's a good thing Kyle didn't come any closer!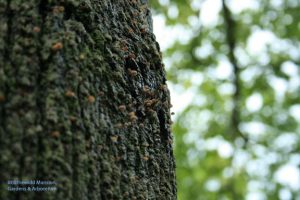 Dan pointed out these tiny parasols (right) on a Norway maple (Acer platanoides) – a tree I walk by daily without giving it so much as a hug.  Some of the roses and zinnias looked like used tissue and a couple of the asters flopped face down in the soup but overall the grounds and gardens fared pretty well, considering.  And Gus-Gus made a rare appearance after the rain – I must say he's looking quite fat and happy.  I think our fish population might be dwindling…
I did as much tidying of the Rose and North gardens as I could by teetering in from the very edge. As you know, it is never a good idea to tromp around in freshly rain soaked beds:  Not only does it cause soil compaction but you're bound to get drenched and cranky too.
I never even came close to cranky yesterday because right as I was finishing up for the morning, I was joined in the North Garden by none other than Rhode Island's Best Layanee from Ledge and Gardens and the famous fabulous Gail from Clay and Limestone who blogs all the way from Tennessee.  Inspired by the Garden Blogger's Spring Fling in Texas, we had an impromptu mini-fling — a fall fling-let, if you will, at Blithewold.  Wish you were here too!  We meandered to the Display Garden, stopped for an "irreverent" discussion at the Cutting Garden asclepias and several missed photo ops of the hummingbirds that are still twittering in the bamboo and swooping on the garden.  Everything under the sun and Salvia uliginosa was enthused over and even the possibility of a full fling in the future was mentioned – although Layanee and I couldn't agree on an ideal time.  Blithewold may be super pretty in the fall but Layanee seems to think her own garden is past its peak.  I've seen pictures and beg to differ!  (But I do have to admit that I certainly wouldn't want anyone to see my own garden right now – I'm more inclined to create a traffic diversion and some sort of commotion just to distract my neighbors.)
Gail and Layanee finally stood still just long enough (as we grazed on ground cherries) for a quick portrait before moving on to the watery Water and Rock Gardens.   I was very sorry to see them go.  As everybody knows, it's the best kind of inspiration to talk with others who share your passion.  No wonder people join garden clubs, host flings and pot lucks and write blogs!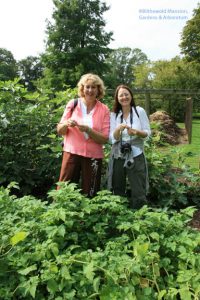 Today the Deadheads worked on propping up and tidying the Display Garden even though in a short couple of weeks we'll start to tear it apart.  The mansion closes right after Columbus Day and we'll be swinging into high holiday gear all too soon.  Gail (from Clay and Limestone) asked what these gardens look like in the winter:  Stay tuned!