Friday, October 15, 2010
|
|
Blog Action Day
,
butterflies
,
fall
,
fall
,
foliage
,
Garden Bloggers Bloom Day
,
How, When, What-we-do
,
North Garden
,
rain barrels
,
Rock Garden
,
Rose Garden
,
what's blooming
,
what's colorful
,
what's in bloom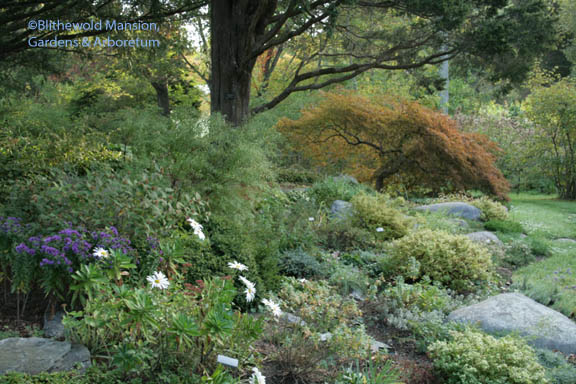 I have gotten out of the habit of getting here extra early every morning to walk the property in search of interesting things. Lately, I have really only had eyes and time for the gardens. I realized after finally walking around again yesterday morning that just like staring at a computer screen for too long, my eyes were in desperate need of a stretch. For months now I've been looking at the gardens from an arm's length, sometimes a rake's length away. I have tried to remember to step back to take in a whole garden bed but it's probably been a while since I've fully focused for more than a minute on the entire landscape in front of me.
I think there's a natural shift to our gaze as we transition into a new season. I looked outward all summer – after looking down more during the spring and inward through the winter. Now I find myself looking up.I've also been out of the habit of using my eyes as a macro lens to enjoy the details. The minutiae of fall is every bit as fascinating as spring.
Although I'm more interested now in looking for the senescent signs of change and the promises of spring locked in seeds and buds, the gardens are still blooming away. (To see what's in bloom around the world today, visit Garden Bloggers Bloom Day hosted by Carol at May Dreams Gardens.) Several species of bees and even a few straggler monarch butterflies remain focused on our flowers, and because of their activity Gail and I have had to adjust our October schedule a little. We've taken annuals out of the North Garden and started to put it "to bed" but we just couldn't bear to take everything out of the Rose Garden. Next week. And we'll leave the Display Gardens (aside from a few stock plants and most of the cutting garden) as intact as possible until the bitter end.
Have you had to adjust your focus to get a good look at fall? Have you started putting your garden to bed?
Along with GBBD, today is also Blog Action Day and the focus this year is clean water. Although I am not officially participating, I offer this link once again for my local readers who might be as interested as I am in conserving water. Remember, one inch of rain on a 1000 square foot roof can fill hundreds of gallons!