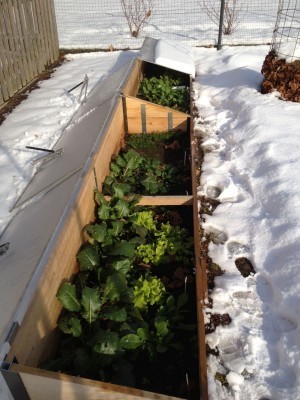 While Punxsutawney Phil may have declared that we are in for another 6 weeks of winter, and we've seen two winter blitzes of snow this week, we shouldn't stop thinking Spring! Wonderful warm spring, with fresh smelling flowers and tasty new vegetables is just around the corner, but what about fresh vegetables for right now, when the garden looks like this?
Last year, thanks in part to a grant from Roger Williams University, I was able to install two cedar cold frames, about eight feet long and two feet wide, in the garden. I purchased these from Gardeners Supply Company and probably could have built them for a lot cheaper but I didn't quite have the time. These particular cold frames have a polycarbonate top panel with ribs so the light is dispersed more evenly and keeps plants from burning as can (but not always) happen with just glass or single layer material. These panels are controlled by a vent opener that uses an expanding and contracting wax to regulate the temperature inside (easier than checking on them each day and night).
"But enough about that" you say, "what about our vegetables!?"
Well; placed on good soil and given an unobstructed sunny location facing south, I planted  radishes, carrots, turnips, onions, lettuce and spinach on the 9th of October. It was too late for the onions, which were a specific variety-Bridger, but I had good germination from everything else. As temperatures were fairly moderate the tops, stayed open until November and then needed some adjustment to make sure they stayed closed once frosts had started. After that, all I needed to do was be paitent and wait for harvest!
Here they are closed and snow covered (extra insulation).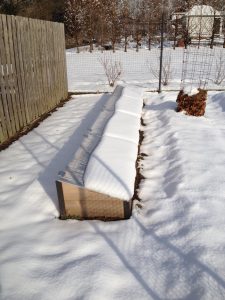 Open them up and…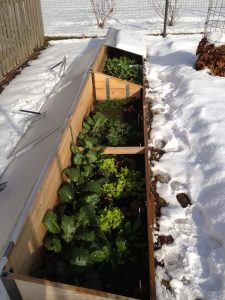 These pictures are from Tuesday (February the 4th). The best producers were the radishes and turnips, with the carrots getting only to baby size. Two lettuce varieties performed well, and while not forming heads, are perfectly good as leaf types.  I clearly tried to cram as much as I could into these boxes as possible, and probably went a little overboard, but there has been enough to make salads every week. Once these plants have been depleted, transplants should be ready to go in to keep us growing until the soil has warmed up enough for the earliest spring crops to be seeded.
As you can see, with just a little effort, fresh vegetables are entirely possible through the winter, so find a spot in your garden and get growing!