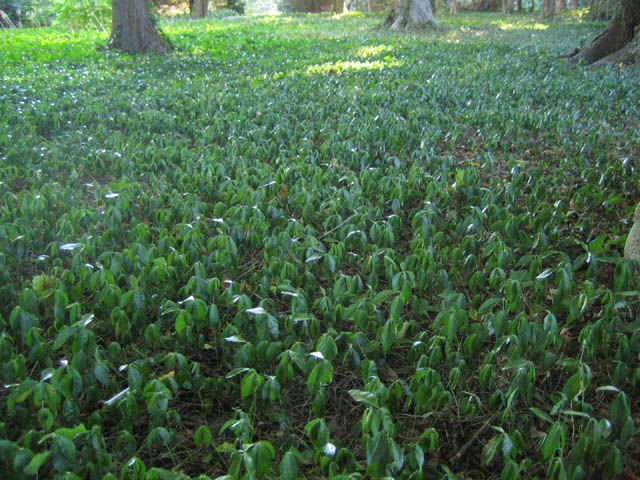 It's been another dry week of desiccating wind, worries and ragweed allergies. All over the property difficult choices are being made about what to water and what to let go – the guys are looking pretty grim lately. Most of the major collection trees and newly planted trees and shrubs are on a water rotation but there places where the weather is having an obvious effect – the periwinkle in the Bosquet (shown at right) has seen better days. Even the goutweed (Aegopodium. – Not shown) is wilting – not that we'd mind if some of that died… (I think it's made of tougher stuff) We're starting to hear the word "drought" in the news and are crossing fingers and toes that a forecasted "chance of showers" for the beginning of next week becomes a full soaking rain. Water restrictions are certainly around the corner and we're watching our well.
A couple-three corrections: The Giant Sequoia (Sequoiadendron giganteum) which we all thought was only suffering damage from a weird winter does have a fungal problem. The guys have been watering it to keep it from becoming more stressed and they believe that it will recover without having to spray it with a fungicide.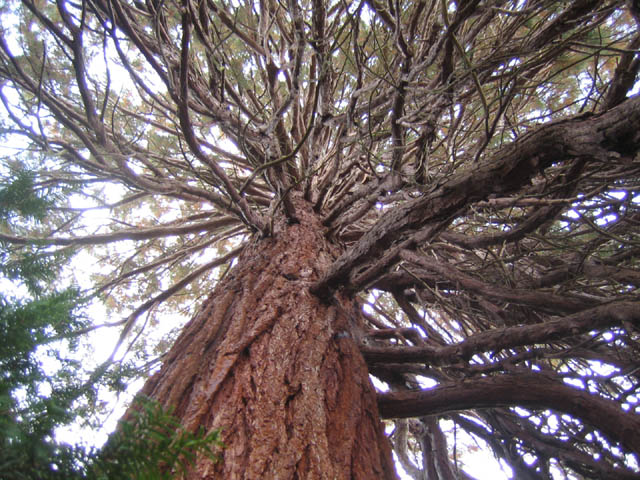 The plants in the bed surrounded by recycled iron from the greenhouse are most likely NOT stunted from leaching iron. Evidently, grass can be a canary-in-the-coalmine for toxic iron levels by turning black. The sod around that bed is perfectly healthy! Could be the early summer heat that slowed the plants down.
And Hydrangea paniculata 'Limelight' is quite green! – and white and pinkish these days. A glaring sun does bleach it out but it's really a whitish shade of green rather than a greenish shade of white now that I've taken a better look!
Another greeny white beauty is the Moonflower that just opened in the Rose Garden. I've noticed it on my early morning rounds and by 10AM or so they've already closed up. Come early or late in the day for an ethereal and fragrant display.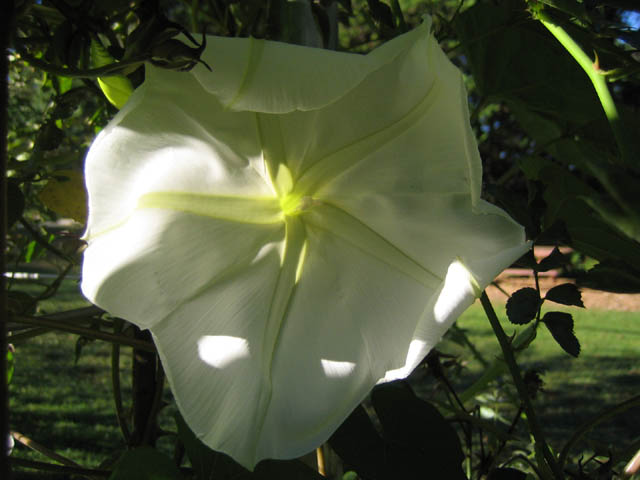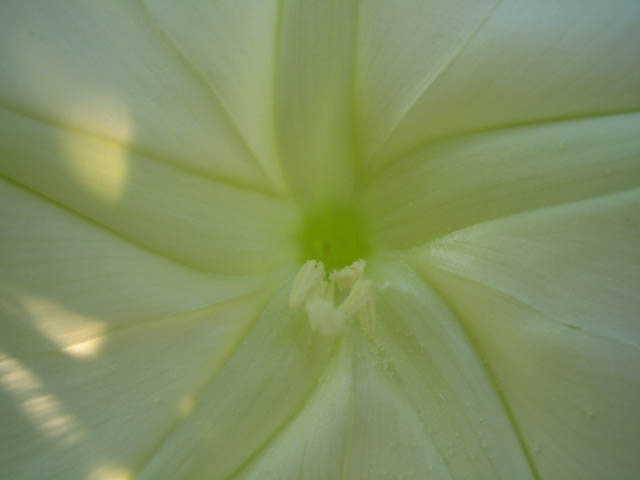 Nicotiana sylvestris are also adding their fragrance to the evening air – brides-to-be take note: September evenings are just as sweet as June!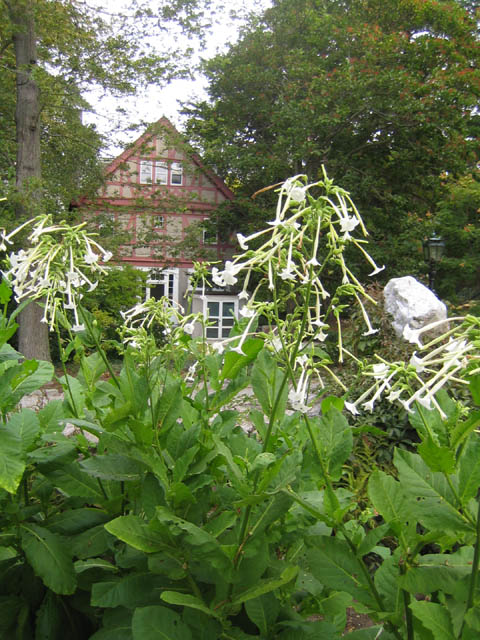 And a tree by the south end of the house caught my eye – The Golden Rain Tree (Koelreutaria paniculata) is full of green and buff seed pods – gorgeous.