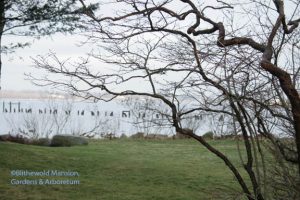 Last night Gail and I made a trek to Boston to hear a lecture given by Dan Pearson (co-sponsored by Arnold Arboretum and Trinity Church). If you don't already know of Dan Pearson, he is one of the rock stars of the horticultural world – a garden designer from the UK who works around the world and has written for Gardens Illustrated, The Observer, The Daily Telegraph and The Sunday Times as well as a few books – most recently one called Spirit: Garden Inspiration. He spoke about a life-long fascination with the spirit of landscapes and has traveled the world to find the places that resonate for him (and would for any of us): Untouched places like a remote part of New Zealand where trees have grown on trees that have grown on trees that have grown on epiphytes that have grown on trees – for millennia; barely touched places like the ancient Druid altar of Dartmoor; places where nature intersects with human intervention – like the Moss Temple garden in Japan where nothing is extraneous and you must participate in a ritual chant before entering; and places entirely man-made like Chicago's Cloud Gate sculpture.
Nothing Pearson said was particularly earth shattering – in fact, he's not really into that sort of thing. His designs have a light touch because he's not interested in making "indelible marks" on the landscape. He talked about how the landscape – our gardens – can be places that connect us to the earth – in the details, and in the passage of time. Landscapes can humble us and help clear our mind. He mentioned an annual walk he takes in southern Spain, where for 2 weeks he walks the same path (to a remote limestone cliff beach. Please.) and every day as his eyes become accustomed to the landscape, more and more details are revealed to him. I know that people visit (and re-visit) Blithewold for the solace of a comfort-zone connection to nature, and although it might not be Andalusia by any stretch, regular walks here – anywhere – can be every bit as meditative.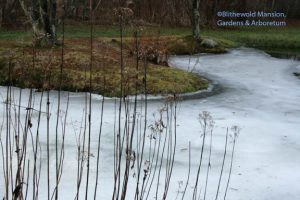 Some of the places he's been -and designed- were spare to the point of austere. But elegant and perfect in every way. Gail and I spent the train ride home talking about the mental toughness test we'd have to keep from embellishing some of these places. We, I think, focus a lot on long seasons of interest (more blooms, no waiting!) whereas he celebrates the ephemeral. – It seems difficult to reconcile being a plant junkie with a nature inspired design and an elegant touch. (But I suspect Pearson's a bit of a junkie too – he just has more self-control perhaps.)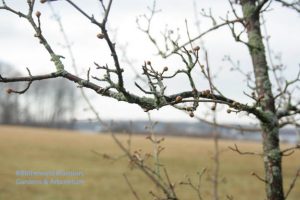 He is so immersed in his work that by now it is – and maybe it always was – instinctual. When someone asked about his actual design process, Pearson said that it's like when you meet someone for the first time, you know very quickly if you have things in common and whether or not a lasting relationship will follow. Same thing with a garden. He just knows it. I realize now that I have completely lost sight of the first impression I had of my own garden – before it was mine, which was a sublime feeling of being perfectly "at home". That is what should whisper the changes I make there.
Do you look for or feel the spirit in places? – Where? Are you a garden whisperer?