Wednesday, November 23, 2011
|
|
Christmas at Blithewold
,
container plants
,
floral arrangements
,
Gifts of Nature
,
holidays
,
How, When, What-we-do
,
volunteers
,
winter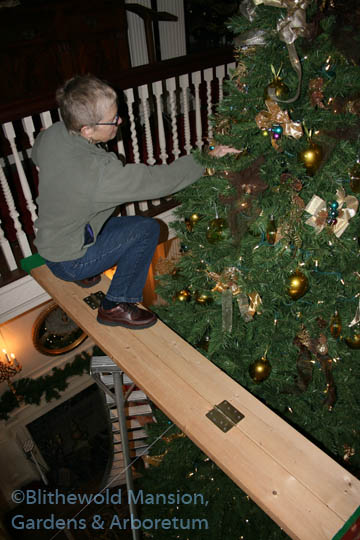 To me it still feels too early to talk about the holidays – I avert my eyes from any commercial Christmas display at least until the day after Thanksgiving – but Blithewold's decorators have been thinking about Christmas since … well, February anyway. And they've been elfishly at work decorating the mansion since the middle of October. Last week the garden volunteers came in to do the big tree (designed by Joanne Murrman) and so I think it must be time to say the halls of Blithewold are well and truly decked – just in time for opening the day after Thanksgiving.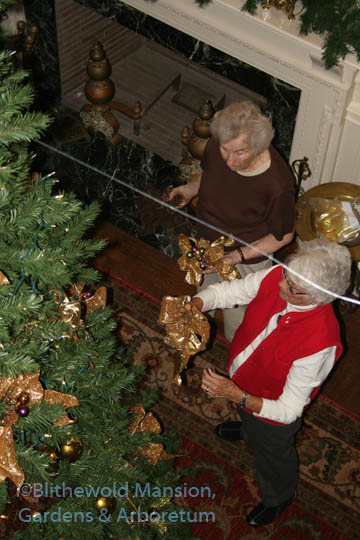 I refuse to call that day "Black Friday" because Thanksgiving is a such a sweet holiday and for me the day after is for relaxing into the spirit of the season. In fact, it's a perfect day to take a walk around Blithewold and receive the Gifts of Nature – if I may say so myself!
I love this year's theme. It lends itself so well to our annual celebration of Nature's abundance (although she was a little stingy with acorns and cones this year), natural talents, and home-made joy. All over the house there is evidence of imaginations run wild, and sublime repurposing of some of nature's prettiest bits and bobs. Outside, Gail outdid herself on the front door wreath. Once again, Fred and Dan have created a stunning display of bamboo ingenuity; and I hope it's obvious that I had a ball putting together the container arrangements.
It amazes me how Christmas at Blithewold has become a special part of so many traditions – from the volunteer decorators who insist on returning with new ideas year after year; to whole families who attend our wreath making workshops (Saturday's is sold out) and to everyone who makes an annual winter pilgrimage all decked out in holiday finery for tea or a musical performance. But it makes perfect sense – it's a gracious and relaxing place, sparking and festive, and well away from any hullaballoo of holiday mayhem.
Do you have a place you go every year to get into the holiday spirit? Do you borrow any of nature's gifts for your holiday decorations? (Need any new ideas?)