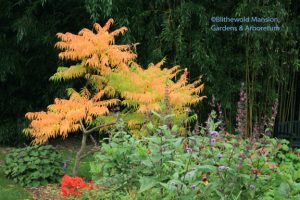 The tiger eyes staghorn sumac (Rhus typhina 'Bailtiger' Tiger Eyes™) has been driving me to distraction all day. This is what happens to me in the fall. I can't ride down any road without nearly driving off it rubbernecking some blazing tree. But I swear I've never before seen anything this color – anything besides flash-orange safety gear, that is. It's really a good thing that I was only digging up plants today (there's a frost warning in the forecast!) and not driving because I kept looking over my shoulders in disbelief. I wish the pictures did it justice, but you can get the idea: On a dark day, this sumac is lit like a beacon.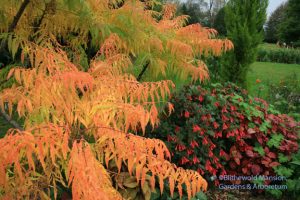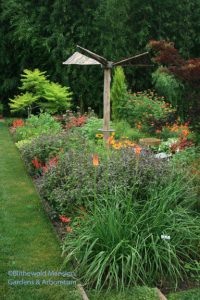 If I made a top 10 list or even a top 5, I think tiger eyes would have to be on it. In full sun, its electric yellow foliage might be a bit hard to take but we asked Fred and Dan to plant ours in the shade of the bamboo and the leaves remained a lovely chartreuse all season. Until now. Word is, it might spread aggressively in the way that sumac does, by sucker – but I really don't think I'll mind a some babies popping up here and there…
Do you have a tiger eye sumac and/or an opinion about it to share? Are there any other glow-in-the-dark beauties driving you to distraction right now?