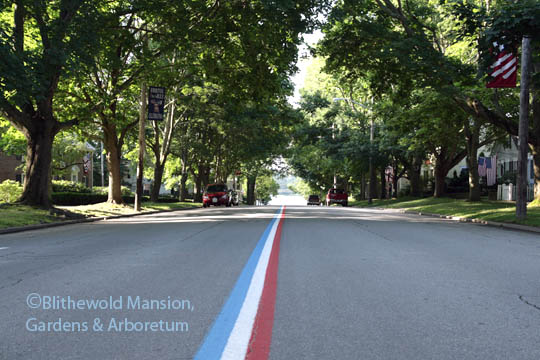 I don't know if it's normal to set a July 4th deadline to get everything planted in the garden or if we choose that date because in Bristol, RI all roads and all days of the year lead there. Bristol boasts the longest running Fourth of July parade in the whole world (this is its 227th year) and Bristolians take the celebration very seriously. Gardens and yards all over town – even off the parade route – are primped to garden tour standards and (almost) every house is draped in yards of bunting, festooned with banners, and flying flags from every flagpole and yardarm.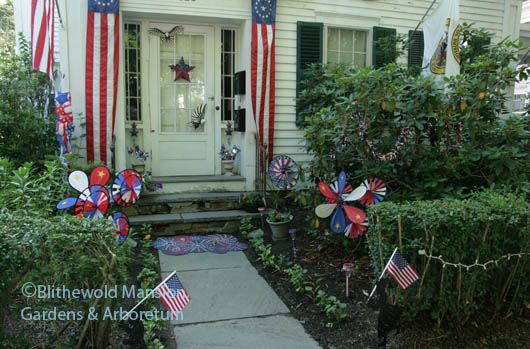 A full year of preparation goes into the celebration, which starts officially on June 14, Flag Day. After a concert series, an orange crate derby, nightly unofficial fireworks, a carnival, a drum corps showdown and official fireworks, the celebration crescendos with an hours-long parade of floats, firetrucks, and amazing marching bands from all over the country that follows miles of red, white, and blue stripe down Hope and High Streets. It's a sight to be seen – every year if it's your favorite thing – or at least once in a lifetime.
Even though we have this event to look forward to and mark our days by,we really shoot to have everything out of the greenhouse and planted by now more because we can count on it to get even hotter and more humid from here on in. We can't keep watering nursery pots and watching plants suffer as they're desperate to take advantage of the weather and grow. Because we have a lot of to-dos on our list, a specific deadline always helps keep us focused on the most important things. This year we're in good shape to make our goal: the greenhouse is almost completely empty – there are just a few plants left that need to go in the container garden, and as of this blistering morning, we planted most of the last annuals and tender perennial stock plants in the Display Garden.
To me that's a good enough reason to celebrate the fourth – all roads and all days have led to this moment too. Not that it ends here for us by any means. There are plenty of other things to get on with, like enjoying the gardens' own ongoing fireworks display. The picture above left doesn't do justice to the most massive delphinium I've ever seen (there is something almost blasphemous about Delphinium 'Pagan Purples' – the spike is well over my head and as fat as my thigh); and Agastache 'Acapulco Orange' (which overwintered in the garden) and the betony and red hot poker combination make us all exclaim,"Ooo! Ahhh!" – and from now until fall our only deadlines will be daily ones to keep the gardens bursting in air.
Do you set a planting deadline in your garden too? Do you celebrate the 4th?