Friday, September 23, 2011
|
|
donations
,
East Bay Food Pantry
,
fall
,
Fall Family Food Fest
,
garden design
,
How, When, What-we-do
,
ornamental vegetables
,
sustainable gardening
,
vegetable garden
,
vegetables
,
volunteers
,
weather
,
what's colorful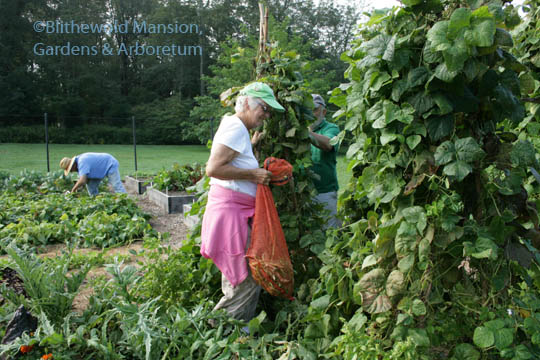 It's a challenge to keep a vegetable garden productive and handsome into the fall. Cool nights set back and do in the hot season crops like cucumbers, beans and summer squash. Tomatoes are slowing down – the ones that weren't destroyed by Irene, that is. Over the last 2 weeks, Blithewold garden volunteers – the Deadheads and Rockettes have put in extra veg-garden time harvesting the late season bounty. – With tomatoes and the last of the cukes, beans and endless kale, we have gone well over 700 lbs. in total donations to the East Bay Food Pantry! Personally, I'm shooting for 1000 lbs. before winter kicks us out of that garden.
And winter is going to have to push hard. We have invested in row covers and seeded down spinach, lettuce, carrots and turnips. And of course we still have Brussel's sprouts and those lovely cabbage (and endless kale) to look forward to. Gail and Linda also planted our first ever garlic – because we're already thinking about next year.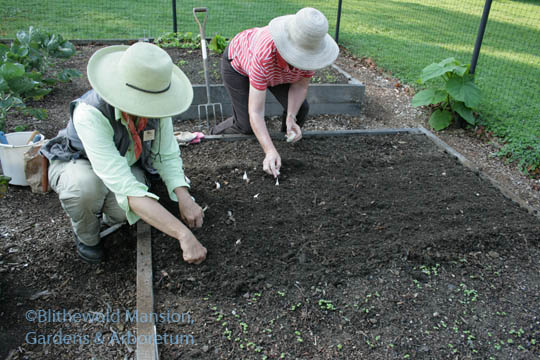 The garden looks – I hesitate to say it, but it's true – better than ever. The cabbages, like I said, are spectacular; the kale is excellent and even the artichokes have sent up a new flush of sterling-silver foliage. Freshly prepared rows are dusted with seedlings – such a hopeful thing! And along with harvesting, the volunteers spiffed and weeded the whole garden. We wanted to make sure that everything would be as gorgeous as possible for the Fall Family Food Fest (The One Day it's OK to Play with Your Food!) this Sunday.
In addition to all of the activities associated with that event (like gourd juggling, sushi rolling, and Mr. Potato Head making) our good friend Pam Gilpin will be giving a slide show on the amazing not quite invisible world of garden insects (at 11am in the mansion). Her pictures are truly incredible and a little alarming. And Blithewold's own Dan Christina will be leading one of his famously fabulous tree walks (at 2pm from the Carriage House). The forecast for Sunday is only gloomy if you decide to stay home instead.
How's your vegetable garden? Are you celebrating a fall food fest too?