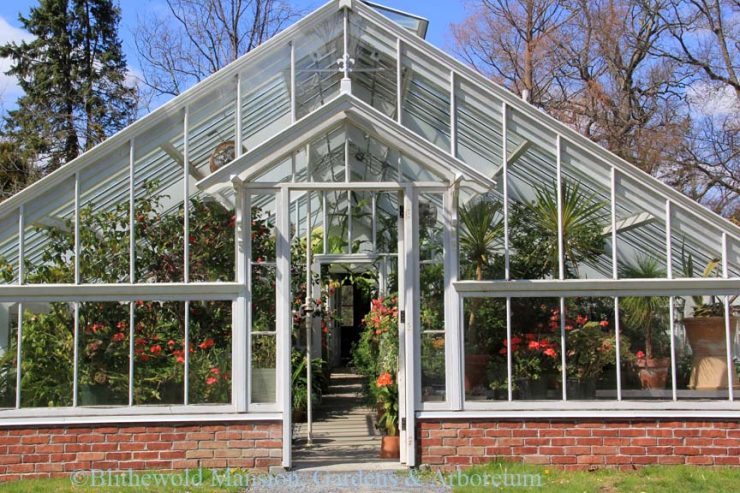 It's that time of year for many happy celebrations. I love the lights and the general sense of love and joy that is present during the holidays. I also love our greenhouses. They are so warm and comforting when the weather outside is less inviting. They are the perfect home for Blithewold's tender perennial container collection. During the growing season I like to write about what's going on in the gardens and the best of what's in bloom. Now that the plants (and horticulture staff) have hunkered down in the greenhouses for the winter, I'm so happy to have this opportunity to show off what we have growing under glass.
This week the flowering maples (Abutilon) are in bloom. They are not to be confused with Maple trees (the Latin there is Acer). These plants are shrubby tropical natives with lovely bell-shaped flowers. There are two cultivars currently in flower in the greenhouses – Abutilon 'Melon Sorbet' and Abutilon 'Lucky Lantern Yellow'. 'Melon Sorbet' tops out at a height of about 6 feet (though we did cut it back when we brought it inside) and has just come into bloom this week. 'Lucky Lantern Yellow' is a dwarf variety of about only 12 inches and has been in semi-continuous bloom all year.
Be careful not to brush bare skin against the leaves of these plants as it can cause a light rash (lesson learned – but luckily for me it lasted less than a day). Many tropical plants are not as friendly to the skin as they are to the eyes. It's always a good rule of thumb to ask your friendly greenhouse horticulturist if it's okay to touch a particular plant, both for your safety and that of the plant.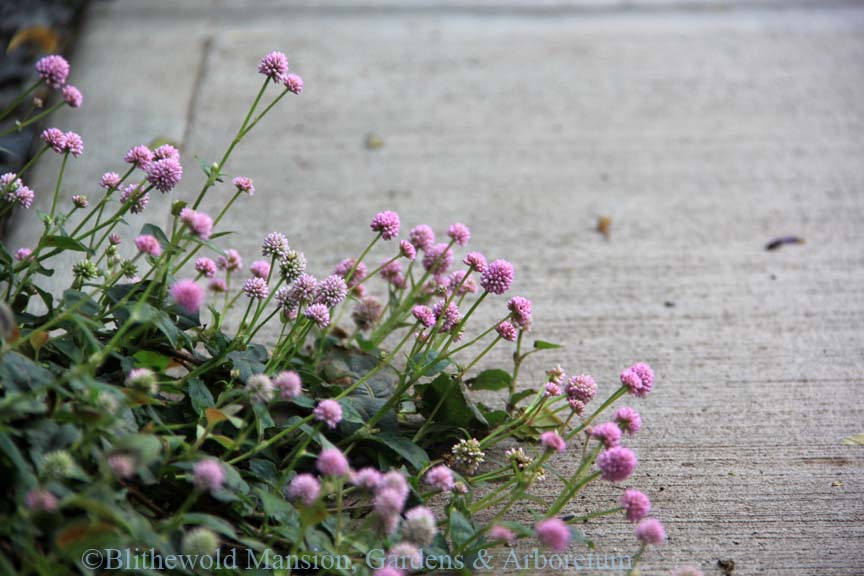 Now that I've scared you a little, let's move on to a friendlier flower. One of my favorite winter greenhouse blooms is this little fleeceflower that has sown itself into the greenhouse floor. This ground cover plant rewards us every winter with the sweetest little tennis ball shaped pink flowers. You would be forgiven for overlooking this plant because not too far away (and at eye-level) are a couple of very showy blossoms. The first is the Fuchsia 'Lillian Annette' whose blooms always remind me of tiny ballerinas in puffy skirts. The second is the cheerful yellow of one of our giant leopard plants (Farfugium japonicum 'Giganteum'), which is currently in full bloom.
With all of these beautiful distractions around, I still find that the Camellias are the winter greenhouse stars I look forward to every year. Their blooms are just so perfect and so soft; and, they come in my favorite colors (yes, I still love pink). The first two varieties to be on display this year are Camellia japonica 'Debutante' and Camellia japonica 'Chandleri Elegans Variegated'.
I hope you come and check out all these flowers for yourself. There are many more beautiful and exciting plants to discover in the greenhouse. Plus it's warm in here!